In one month I am heading to Japan again. In this article series I will describe the whole trip as I have planned it. Once over there, I will keep updating the blog with my experiences daily, like I did in previous years. The fourth and last chapter is about my last day in Tokyo, my departure as well some words about how I organize the whole trip.
---
Return to Tokyo
Over the course of the second-last day I will take the Shinkansen from Kobe back to Tokyo to prepare for the departure. I chose a hotel in the Ginza district, which is not only close to Tokyo Station, from where I can catch the Narita Express to the airport conveniently, but also a well-known shopping district.
By now I am seriously considering to deposit my bigger luggage while I leave Tokyo for the middle of the trip. If I do so I have to pick it up again in Tokyo or at the airport at the latest.
Sakura
Back in the heart of Tokyo I have another opportunity to shop for omiyage and general goods from Japan. But more importantly, the annual cherry blossom forecast predicts mankai, or full bloom, of the Sakura cherry blossoms in the first week of April. Even if I should have missed them the week before I can enjoy the greatest of Japan's seasonal events.

There are many popular viewing spots, including parks and riverbanks. I try to visit Ueno Park and Shinjuku Park at the least.
Breakfast at Tsukiji
Breakfasting at Tsukiji is something I recommend everyone staying in Tokyo. The only downside, if there is any, is the early time one has to arrive to see the infamous tuna auction.
My return plane departs in the late morning, thus requiring me to leave Tokyo quite early in the morning. So why not pack an unique experience and a last tasty breakfast into these last hours?
---
Departure
After resting well After a very short night with little sleep if any I will take the plane back to Switzerland the next morning. The flight is operated by Swiss (an Airbus A340) and goes to Zurich non-stop. Because of the time zone difference I win most of the flight time back and land on the afternoon of the same day. Falling asleep during the flight should not be difficult this time.

There tons of other places and things I also wanted to see, but because my vacation time is limited and I will have many more opportunities to come over, I will call it a day trip with that.

---
Postface
Before I end this itinerary series, I would like to briefly touch the topic of organization. As you have noticed already I am the type of person who likes to plan ahead in detail. While I do think it is essential to have all reservations for hotels and special transportation fixed, not every day has to be planned through from the beginning.
The web service Trello aided me in organizing my trip a lot. My "board" for my Japan trip looks like this: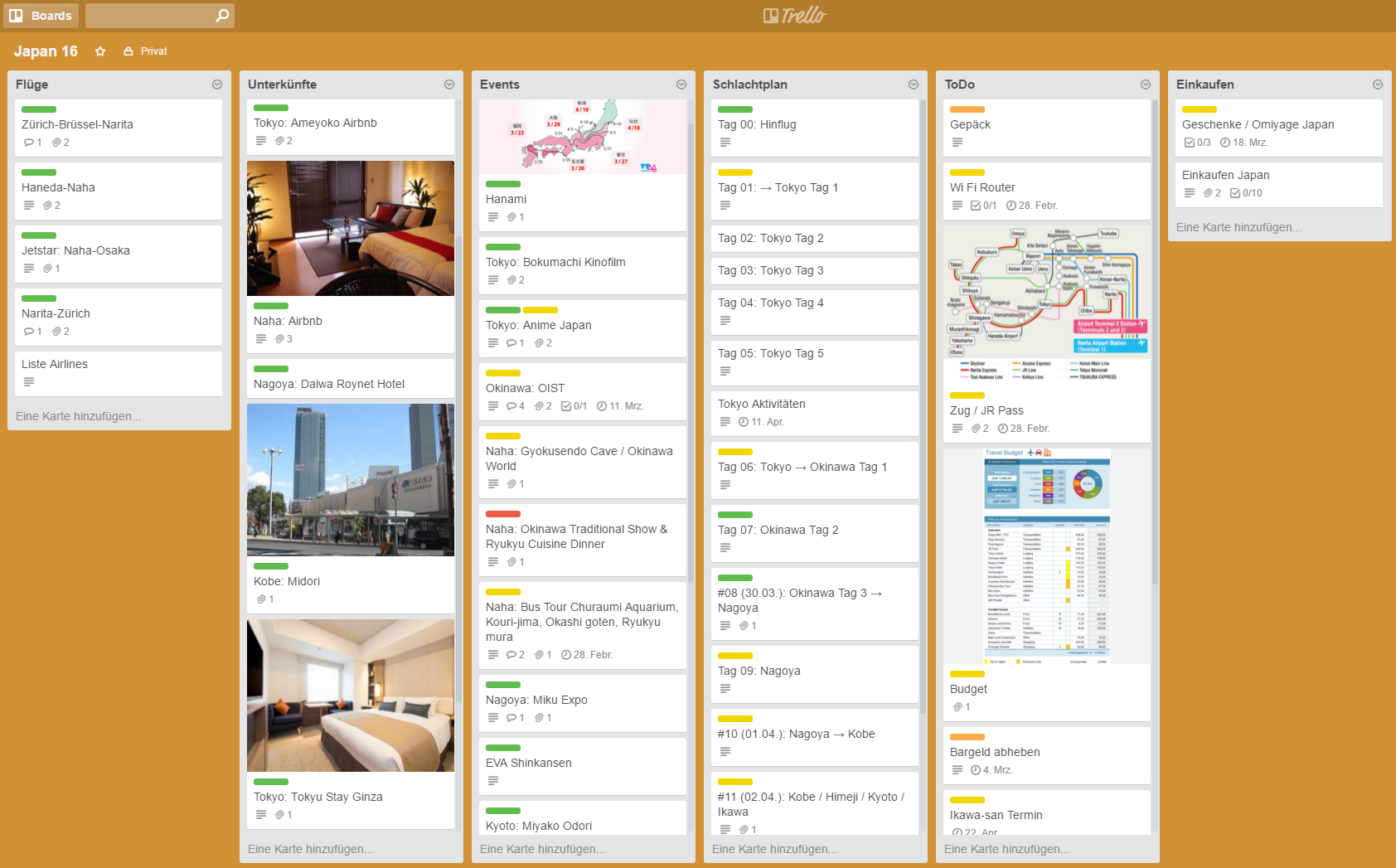 All reservations, plans and itineraries are saved and can be accessed without a permanent internet connection. I can highly recommend it for organizing various projects, apart from travel.
Moreover, I can recommend the websites Japan Guide and Taiken Japan. Also my very own Japan map might help finding worthwhile locations.
Look forward to my detailed travel diary in a month from now.
Japan 2016 Trip Itinerary – Chapter 4: Tokyo & Depature