In February 2020 I embarked on another trip to Japan. Like in 2018, I decided for the coldest season motivated by my work schedule.
This time I am publishing my travel log after the trip, however I wrote most parts during the journey. In the past I used to publish daily posts live but it took to much time away, so I am trying this format now.
There are several advantages to visit in winter over the more popular spring and autumn months I think. For once, there are way less tourists on the street which let me avoid queues at the famous places. Further, there are just as many things to do as in spring or summer as you will see. And of course, there are some celebrations and events which only take place around this time of the year.
Since this was my 6th time being in Japan I began to shift my focus from sightseeing focused trips to experience focused ones. What I mean by that is that I approached the trip with a slower pace, staying longer in one place. As long time readers will know, I had the tendency to travel a lot across the country within short times to see as much as I could from the country. I still like this way of travelling and would do it again like that.
For reference, this is a map of the prefectures I visited, stayed or lived in up to this point. There are still some white spots, including Shikoku, Tohoku and parts of Chugoku. One of my aims was to cover at least some of these regions this time.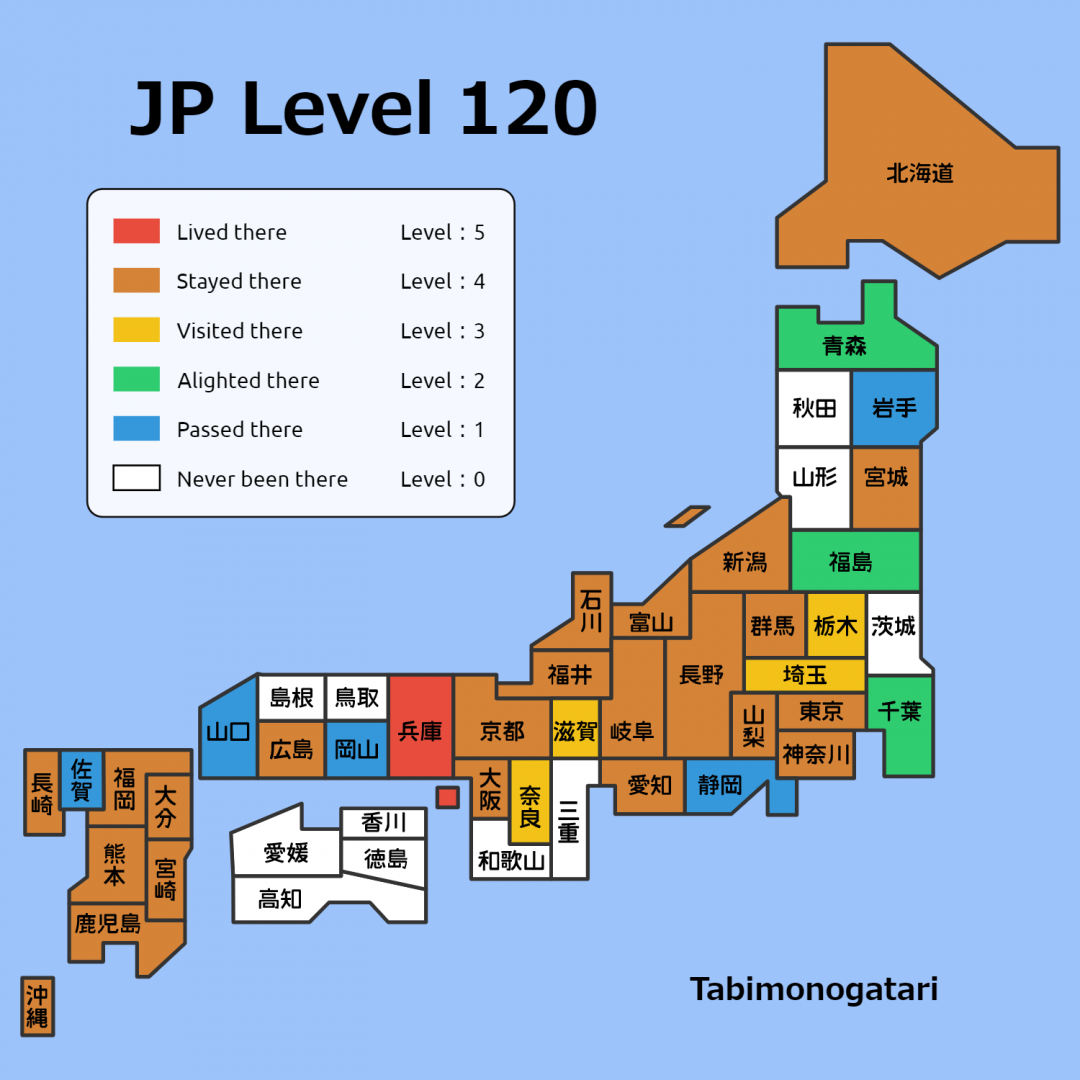 My itinerary planning was focused on picking up as many events as possible. There were a couple of concerts, events and celebrations that would take place during my time in Japan, so I planned my schedule around them.
For my flights, I found a good connection to Osaka, so I made made the Kansai capital my beginning and end point. Because of said events I ended up staying in Osaka a long time, almost half of my trip. I like Osaka, but this was unexpected in hindsight. What am I doing there and elsewhere? For details see below.
The route
Here is my map for this trip with the destinations I planned to visit.
Starting from Osaka, I would stay in the Kansai region for the first five days. On February 3 Setsubun, a religious festival about beans, ogres and good luck takes place. Besides, there were several concerts that fit my schedule best in Osaka. For the third time now I will attend a concert of Perfume, one of my favorite music groups. Also I managed to get a ticket for the concert of DAOKO.
Moving on, the next destination would be Tokyo where I wanted to meet friends and just enjoy the city. There is so much do there so I wanted to stop by at least a few days. I was thinking about stopping by in Atami on the way from Osaka to see the plum blossoms. While the cherry blossoms would not be ready until April, the plums blossom earlier, so I was looking forward to walk beneath the white and pink trees nonetheless.
Fuji-san was another place I had in mind. Specifically I wanted to go the the Lake Kawaguchi area which lies on the northern side of the mountain after visiting Hakone in the east way back in 2012. In winter the view of Mt. Fuji is said to be the best. Most of the times the peak cannot be seen due to clouds and fog. While fireworks usually take place in summer, a winter firework celebration is taking place at Kawaguchiko on a few weekends so I wanted to make sure to time my visit accordingly.
After this short but busy time in Tokyo, I wanted to cover new ground in the north. Originally I would have liked to travel to Akita to witness the Namahage Matsuri, a reaching back local winter celebration. Because of time clashes with the events in Tokyo I had to give up on that. Still, I was keen to visit the Tohoku region.
Hirosaki was another city I had on my list for a long time, I wanted to visit it in 2018 but it did not work out at that time. Around February the Castle Snow Lantern Festival would take place which looked amazing from the pictures I saw.
Another place in Tohoku I wanted to see is Ginzan Onsen. The small remote onsen village has a mysterious vibe, especially during winter it looks like from a fairytale.
For the last few days I planned to return and stay in Osaka. My priority is to do omiyage shopping and meet another friend. Also, I was able to obtain two more concert tickets, this time for Aimer and Kyary Pamyu Pamyu × Yasutaka Nakata that would give a collaboration concert.
And that is the plan for now. Please look forward to the travel logs I will post over the coming weeks.
Japan 2020 Winter: Itinerary