Let me tell you another episode of my life on how to turn bad luck into good one. Or how I will always arrive at my destination even when things go wrong.
The plan for today was to pack my things and to board a train to Sapporo. From there I would board a plane to Osaka and arrive in Kobe in the late afternoon.
Today I woke up about half past 5, unusually early even for me. The sun is rising early in this time of the year so this is not so surprising. Having plenty of time left, I packed my things and had a shower in a Japanese style bathroom (you usually sit on a stool instead of staying in a cabin). Refreshed I enjoyed a Western breakfast with omelette (with ketchup, typical Japanese again), self-made buns with marmalade and coffee.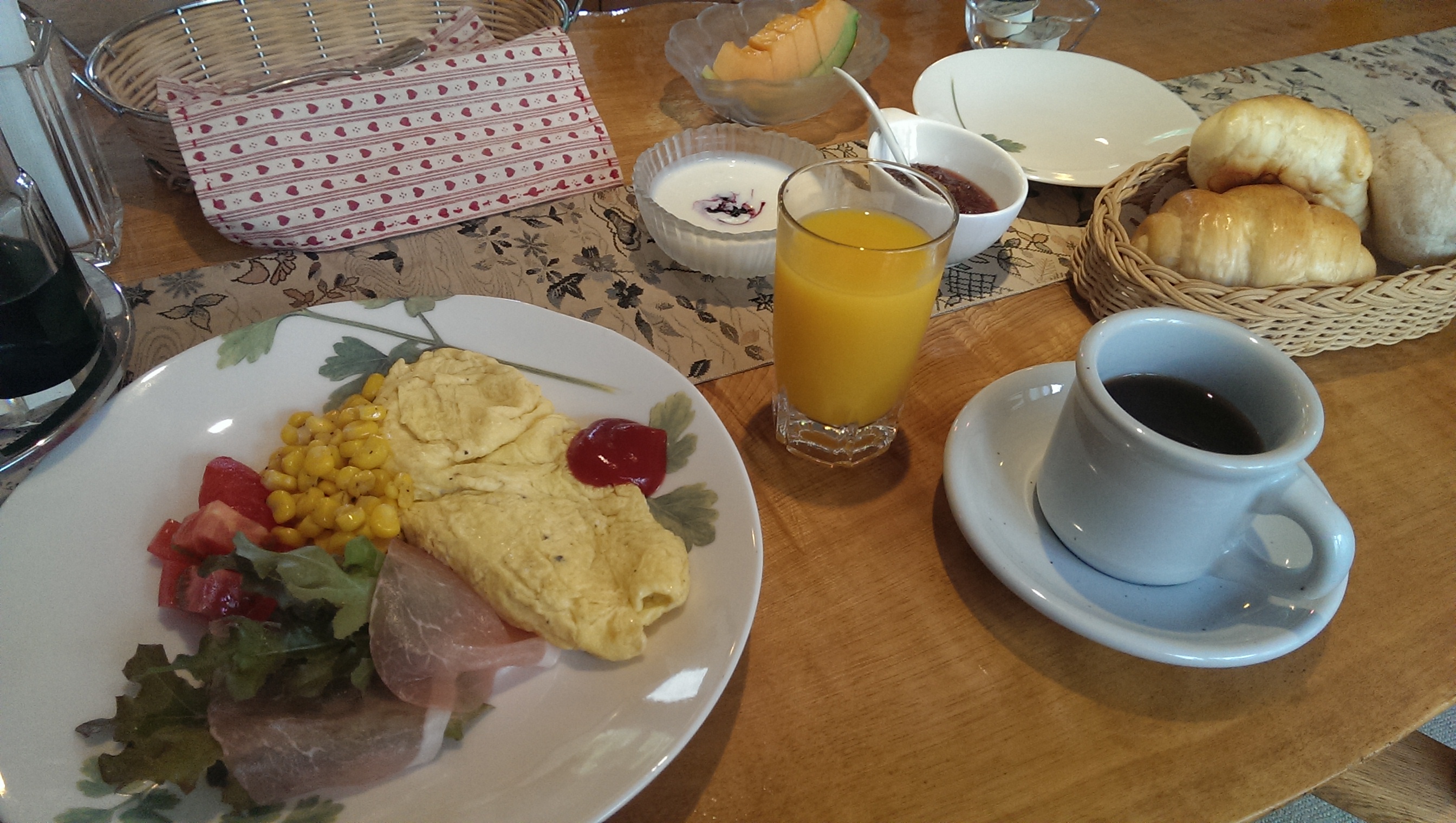 I wished farewell and left for the station. I wanted to go visit the Morning Market before leaving, but the time did not suffice anymore. Soon, I was at the station, scratching my head.
So, I missed my train to Chitose by a few minutes. How did this happen? I'm not entirly sure, maybe I was slapped with a smelly fish and was knocked unconscious for an hour. The next train would come two hours later, so it was clear that I also missed my flight. Examining my remaining options I decided to use Plan B (have always one prepared), meaning taking the train all the way to Kobe. This implied passing a distance of at least 1500 km in about eight hours. Still, this is pretty fast thanks to the Shinkansen high-speed trains. At the station a very helpful staff member issued reserved tickets all the way to Kobe. For the record, I did not have to pay for any of this. Japan Rail Pass banzai!
Having plenty of time again I was able to visit the morning market which was worth missing the train.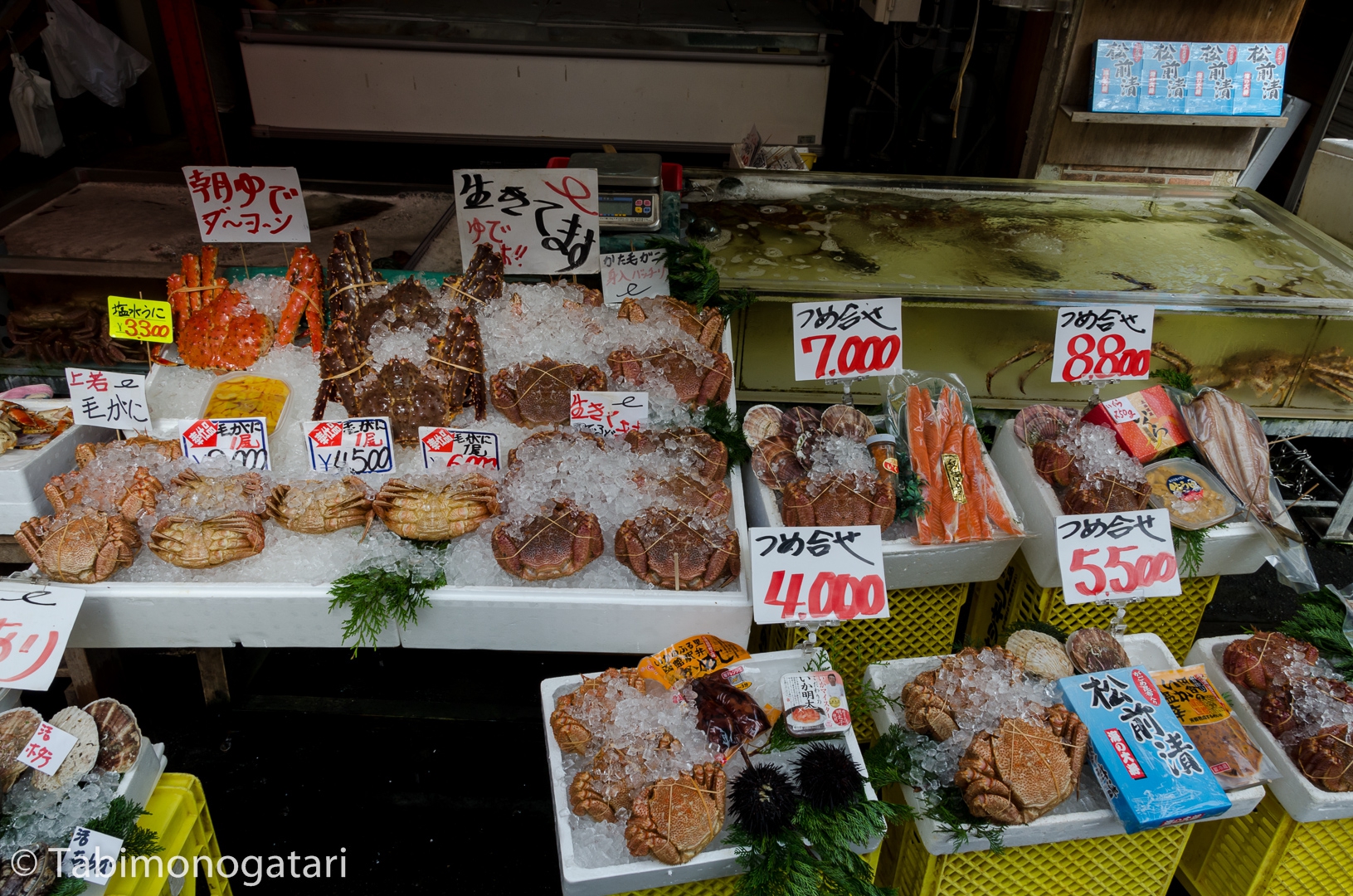 Every tourist guide recommends the Tsukiji fish market in Tokyo, but to tell the truth, it is hardly worth it if you have an alternative. The market is no market in the sense of strolling around and buying fish for consumers. Instead, the fresh bait is sold to local restaurant chefs and larger stores. Every morning tourists try to sneak into the area, what is not really welcomed by the local merchants. Last time I did the same (obviously) but I recommend to go there a bit later around eight or nine when the trading is done. There are several restaurants which serve the fresh fish as sashimi and donburi.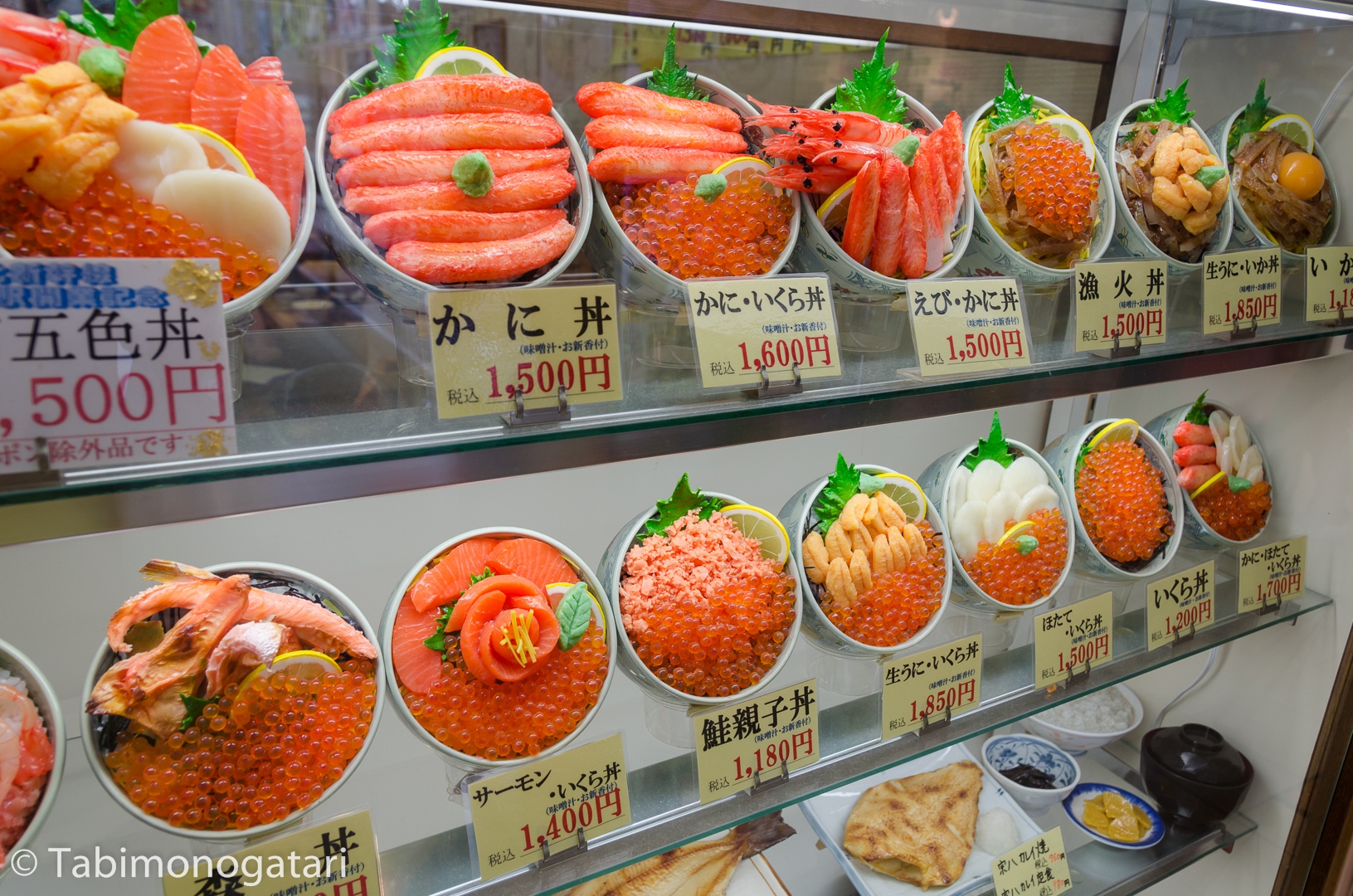 Look's tasty right? But these are actually plastic models often presented outside the store. They are produced very carefully to imitate the dish perfectly.
Oh, I got off the point. Hakodate's morning market is the complete opposite of Tsukiji. The merchants invited to have a look around and offered a taste here and there, too. Everywhere was freshly catched fish and seafood, especially crabs (Kani). Many were kept alive in an aquarium and can be readily prepared for take home or eating right there. A vendor even offered to hold the large crabs in my own hands.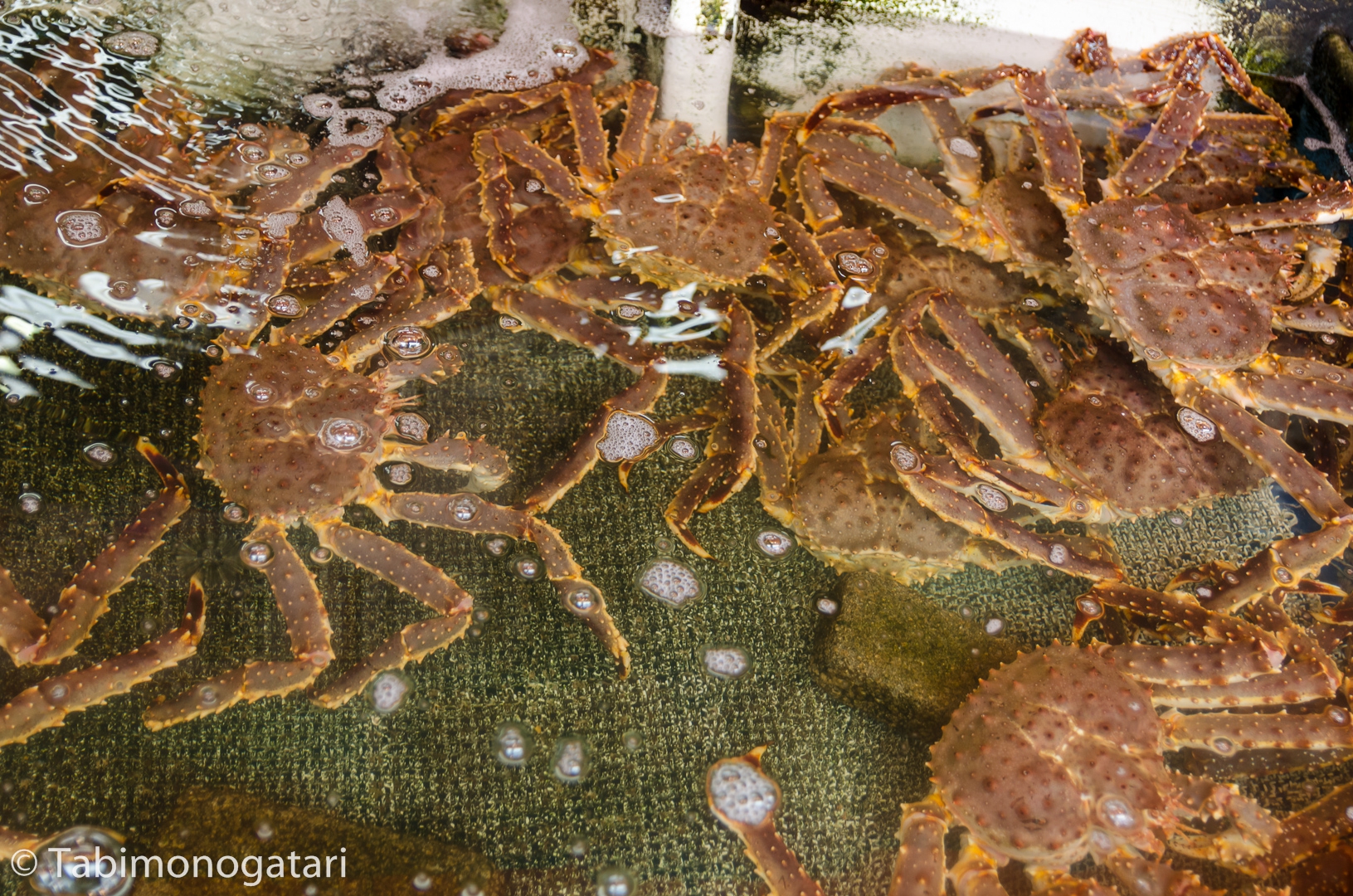 The time passed faster than expected and I went back to the station.
My first train, the Super Hakucho (Swan) connects Hakodate to Honshu. In two hours the train underpassed an 50 km tunnel under the sea!
Soon I arrived in Aomori. It was a great feeling entering the Shinkansen ticket gate, which is always separated from the normal train area. Indeed, the Shinkansen trains serve on separate tracks that are built for the continuous high speed.
I changed to the Tohoku Shinkansen. I was particularly lucky to catch a Hayabusa type train, the newest and my favourite among all Shinkansen for its speed, comfort and shape. The train has a very long and aerodynamic nose.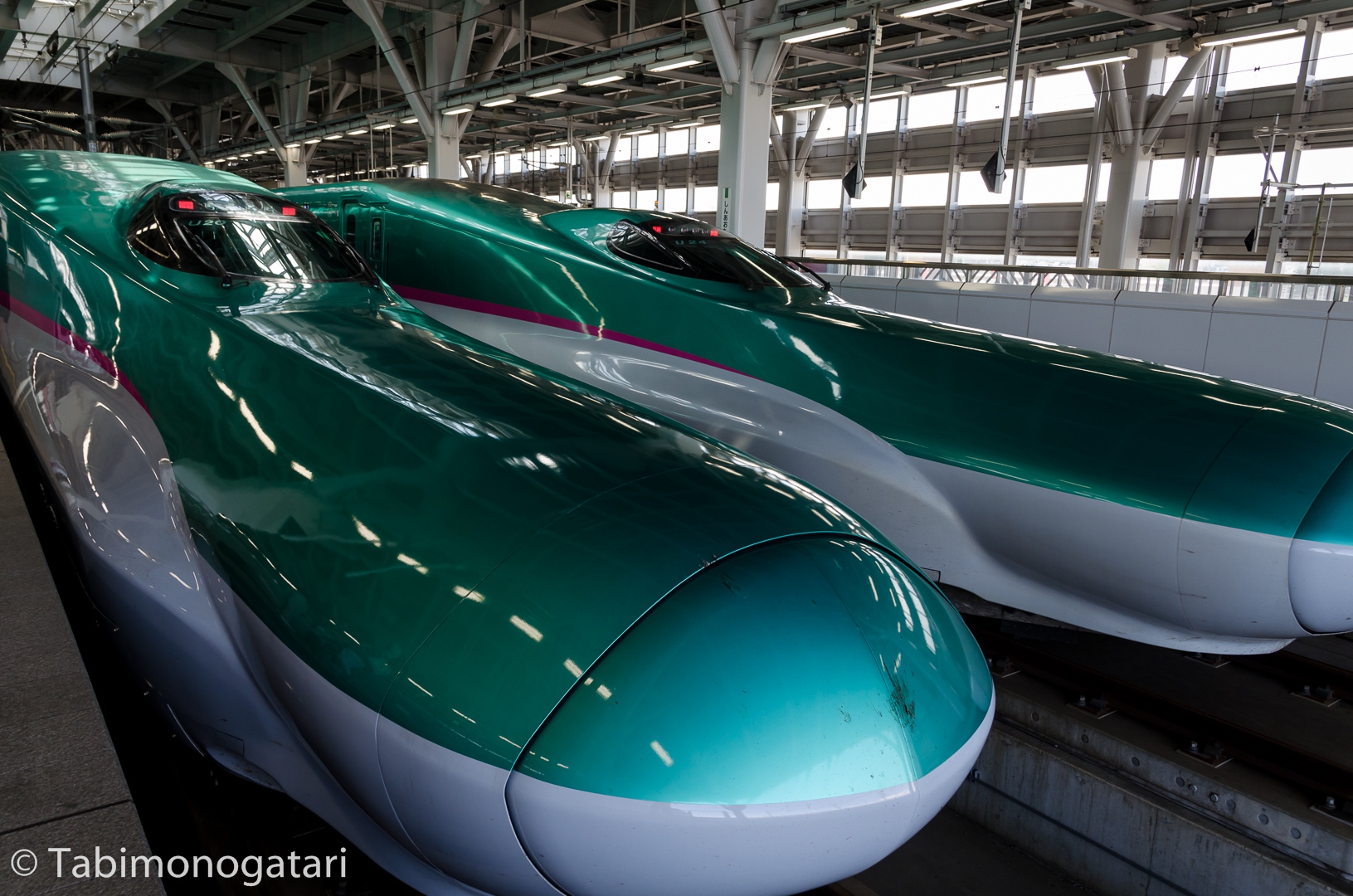 The trains are so comfortable and luxurious, even in the ordinary class. You have lots of leg space and the seats do recline without obstructing the passenger behind. Also they are veery punctual, late trains are no excuse in Japan.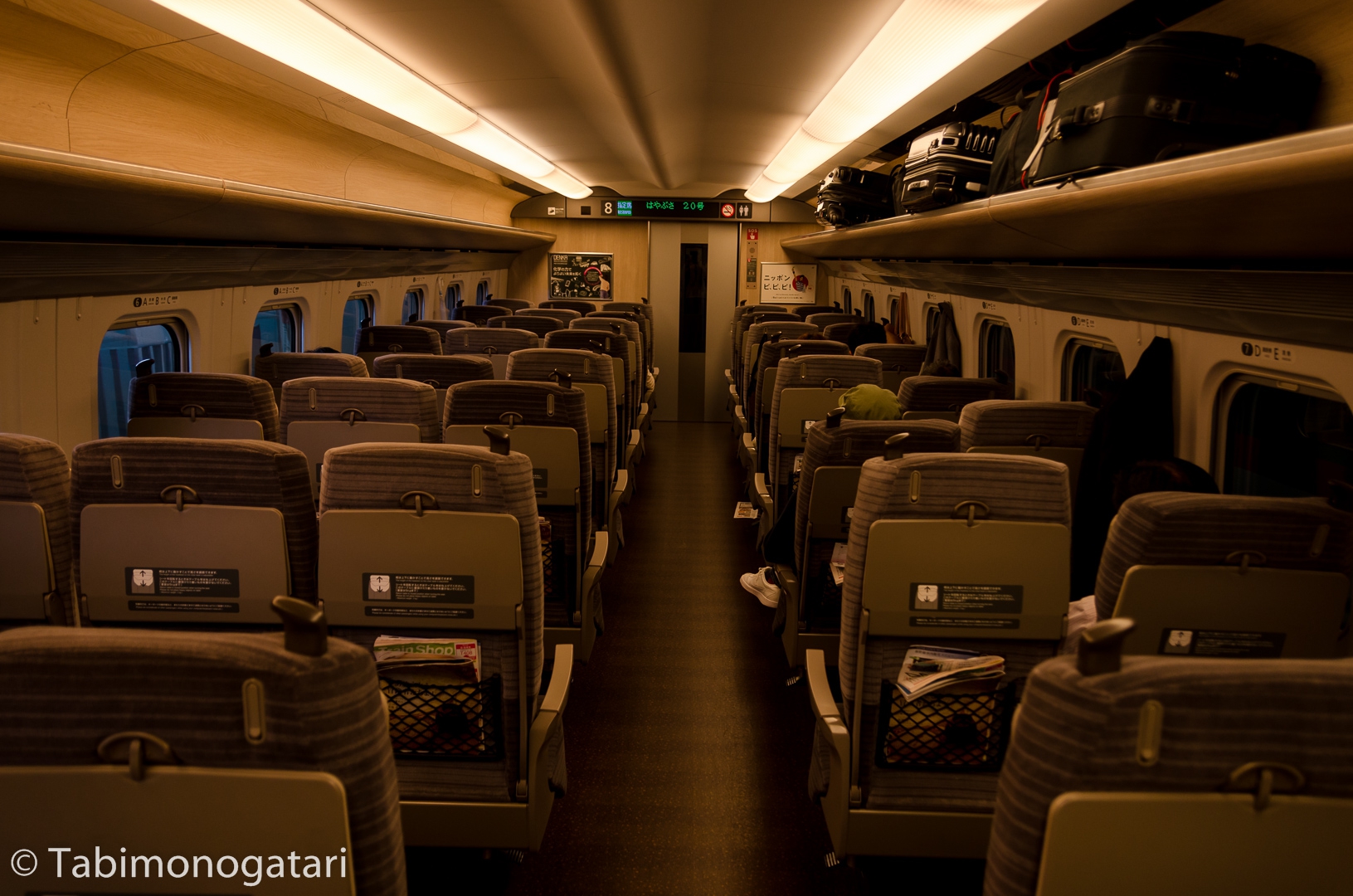 The train is entirely reserved and houses an additional Grand Class, even superior to the Green Class. In the ordinary cars I have enough legspace to store my backpack and spread my legs. There is even more space than with a business class plane seat! Every row also has an power outlet.
Once the train departed the station it quickly took up speed. With a regular speed above 300 km/h the landscape quickly passes away, even the clouds could not hold up to us. The train passes passes countless tunnels and makes only slight curvature to keep up the speed. It only decelerates for Shinkansen stations which are passed. Some types of trains stop more often than others, the Hayabusa skips the most stations. In less than three hours I arrived in Tokyo.
At 4 o'clock I arrived at Tokyo station. In twenty minutes I had to transfer to the Hikari (light) Shinkansen bound for Osaka. It is the second fastest type on the Tokaido line. To compensate lunch I bought another ekiben. The weather was quite different from Hokkaido being quite warm and cloudy.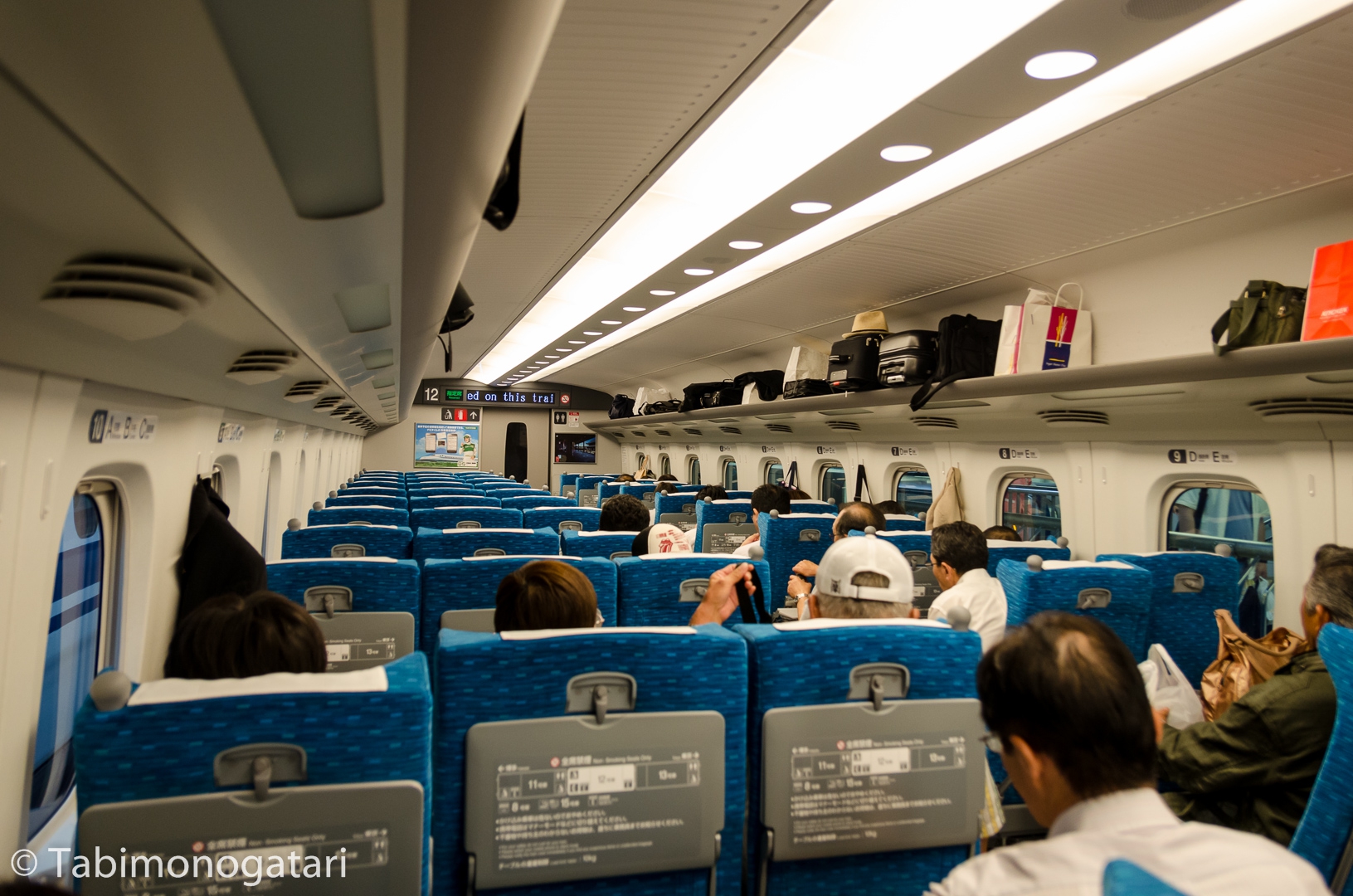 Three tours later I changed to Kodama Shinkansen for the last few stations to Kobe. From there it was not very far to Sannomiya, the station in the center of the city.
Considering, that the travelled distance was 1'500 km rail I am very satisfied with the train network and schedule here. But if one does not have a Rail Pass the fee is very expensive. A ticket from Tokyo to Osaka costs about 12'000 Yen (100 Euro, 2.5 hours). My ticket of today would have been 30'000 Yen.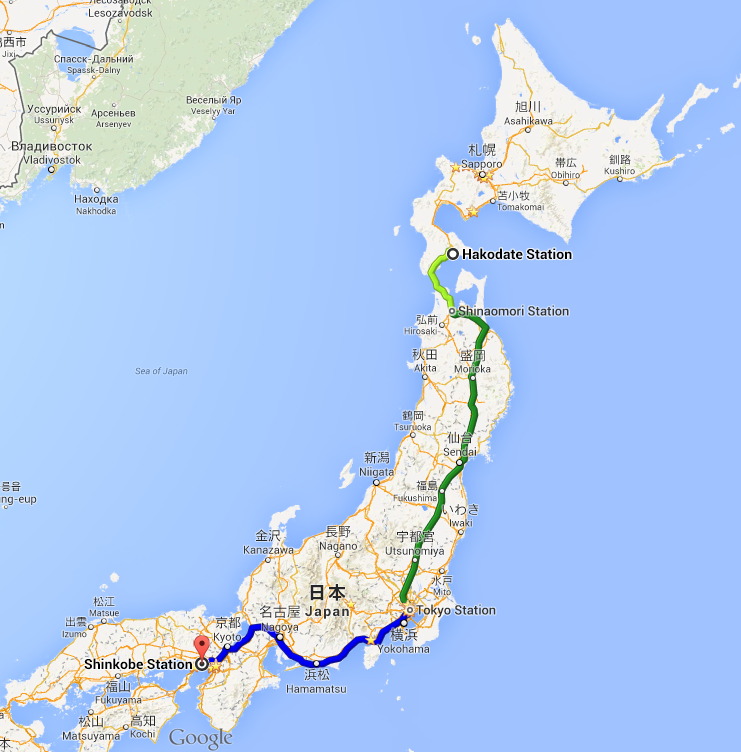 I thought here my day would end and I could lean back. Think twice, this is Kobe!
Instead of going to a hotel I searched the home-apartment site Airbnb for a flat to stay in Kobe for three nights. What I found was better than I hoped for: A flat in the 46th floor of the newly built Kobe City Tower!
I quickly found the building which did not exist when I visited last time. The building had so much security I had to confirm my identity two times before entering the elevator area. My hosts, a very kind and young couple welcomed me and showed me around. Like the building itself the flat was very modern and trendy. And the view was stunning! This is way better than a hotel! I did not have the chance to make photos, but I will show you some soon!
Since I did not eat much yet I wanted to look for a place for dinner. Before I could head out the door opened and two guests appeared. The Japanese guy and the Malaysian girl stayed here for the last night and we talked a bit about our travel experiences in Japan. The host's wife showed us a view balcony on the 39th floor where we stayed a long time admiring the night view over Kobe. We talked in a mix of Japanese and English, it was really fun. Finally we parted, after exchanging contact information and I went to a sushi restaurant close to Sannomiya station by myself. I started a conversation with other guests and soon I found myself on a table with three other citizens. I tried my best as always to make myself clear in Japanese and we had a lot of fun and sushi. In the end I was even invited, I was not allowed to decline. Japanese people are so kind!
Tomorrow I attend a special event I am looking forward to for a long time: The Magical Mirai concert by Hatsune Miku in Osaka!
Travelling is always an adventure