Obon is one of the most important celebrations in Japan, during which the ancestors are honored and the family unites. Therefore, virtually everyone is given/takes time off to travel.
While the articles about my adventures during Obon are still in production, today I want to talk about one event that took place in Kyoto – the Gozan no Okuribi.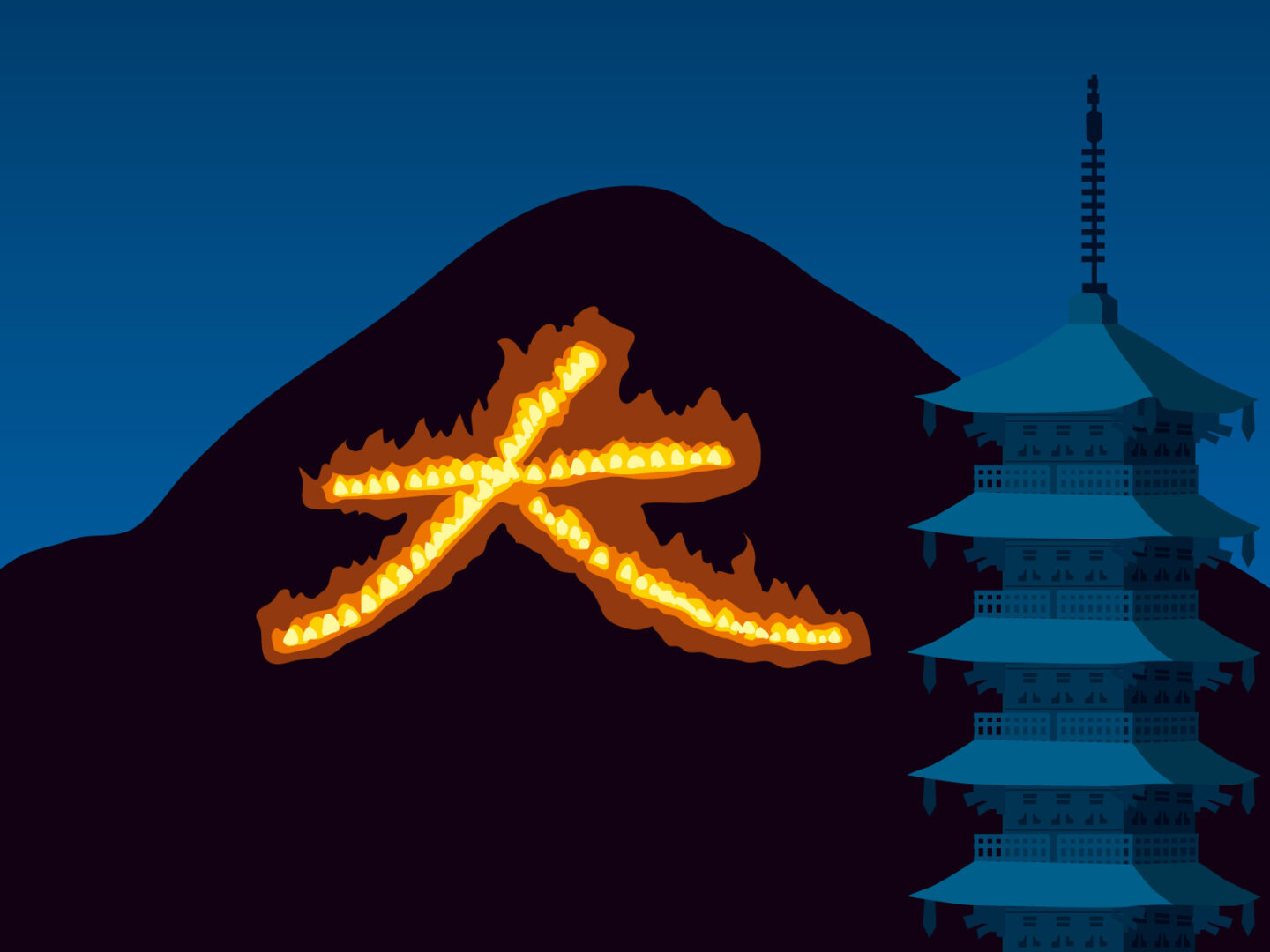 Fortunately, Kyoto University also honors this holiday and I received 11 days off in mid August. Like for Golden Week, this is a good time for me to leave Kyoto. Not only is it expected to be busy here, but also does this series of days off allow me to travel further.
Because I did not want to miss Gozan no Okuribi, I embarked on two five day trips with a one-day break in Kyoto. This was quite helpful actually, because I could save on luggage and laundry by splitting the vacation in two.
On August 16, at the end of Obon, five bonfires are ignited on the peaks of Kyoto. In the Japanese Buddhism it is believed that during Obon the spirits of the moved on ancestors return from the afterlife. At the end of their stay in this world they shall be guided by the light back to the afterlife.
While other cities share the tradition, Kyoto probably has the biggest and most famous okuribi celebration with five mountains and six shapes, but two are counted as a pair. They are all lighted in sequence from 8 pm — "Daimonji" (Higashiyama Nyoigatake, lit at 8 PM), "Myo – Ho" (Matsugasaki Nishiyama – Higashiyama, lit at 8:10 PM), "Funagata" (Nishigamo Funayama, lit at 8:15 PM), "Hidari Daimonji" (Ookitayama, lit at 8:15 PM), "Toriigata" (Saga Toriimoto, Mandara Yama, lit at 8:20 PM).
This year after two years of pandemic-induced reduction in scale, the event was scheduled to be held as usual. Unfortunately, a storm arrived an hour before the start and it looked like it would threaten the whole event.
On my way to a viewing spot at the Kamogawa Delta, I also got drenched by the heavy rain. It was also quite chaotic and roads were closed. After a detour I arrived at the Western river bank. By 8 pm the rain stopped and the fires were could be lighted.
I am glad we did not have to live with a dry run.