Fukuoka is not much a city for tourists but for shopping and living. While there are few cultural sites, the modern and vibrant city has much to offer besides.
Tuesday morning, after picking up some Melonpan for the journey, I left for Shin-Kobe station. In preparation for the next week I issued all reservation tickets until Kyoto.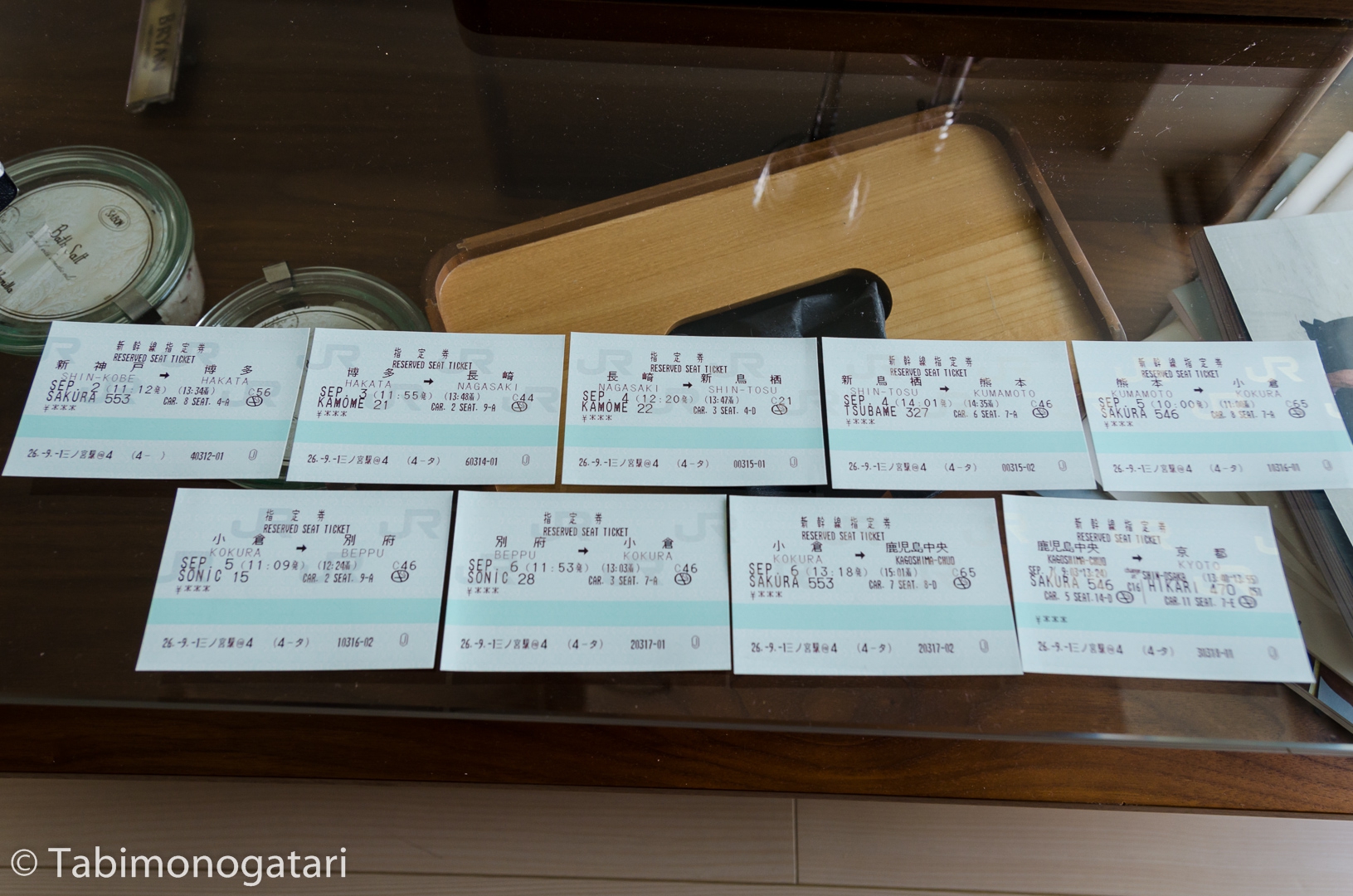 The Sakura Shinkansen drove with its usual high-speed to Hakata station, passing by at Okayama and Hiroshima. Be aware that the Shinkansen does not stop at a station named Fukuoka. Because of historic reasons the Shinkansen stop is called Hakata, like the former city it belonged to.
The station looked very modern and many shops and restaurants are in the upper floors. While I did no have lunch I first wanted to get rid of my luggage. Conveniently accessible by subway I moved to Tenjin, where citizens come for shopping and night-life.
Again with Airbnb I found a flat in the heart of Tenjin, very fitting to the artistic neighborhood. The flat was pretty small, not surprising in the cramped cities of Japan.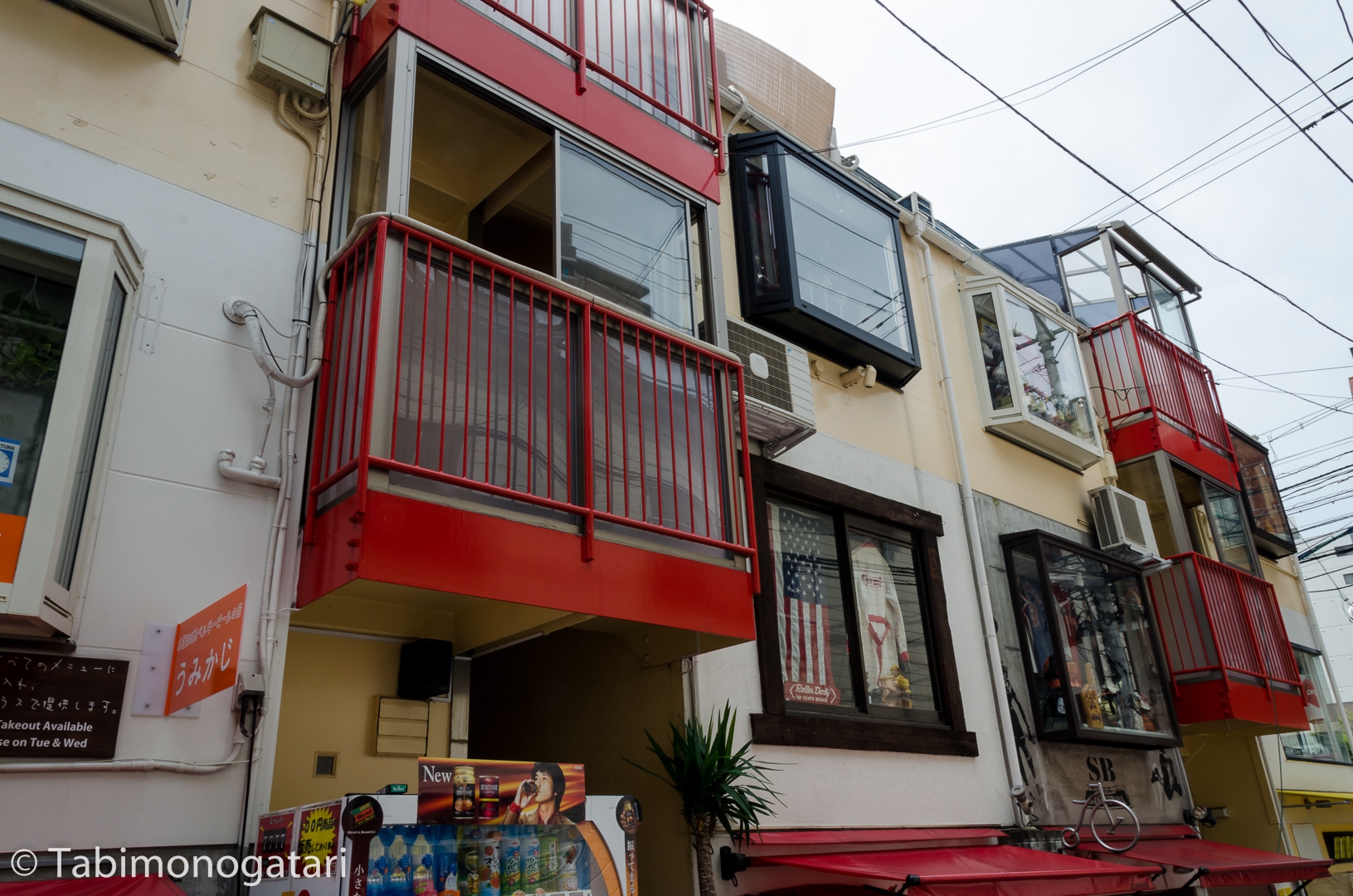 Fukuoka is famous for a few local dishes, one of them Hakata Ramen, or Tonkotsu Ramen. Unlike Sapporo or Tokyo style the broth is prepared without soy sauce or miso but with pork bones. The resulting flavour is very strong and aromatic.
Ippudo is a well-known chain in the area and did not disappoint at all. While lunch time a set menu for just 800 Yen including Gyoza, rice and cold tea is available.

Next I headed east, in direction of Hakata district. The ACROS building has a very eco-friendly architecture. The stair like roof is entirely greened. There is a trail leading up from the ground floor to the top, where a park offers a nice time for a break with a view.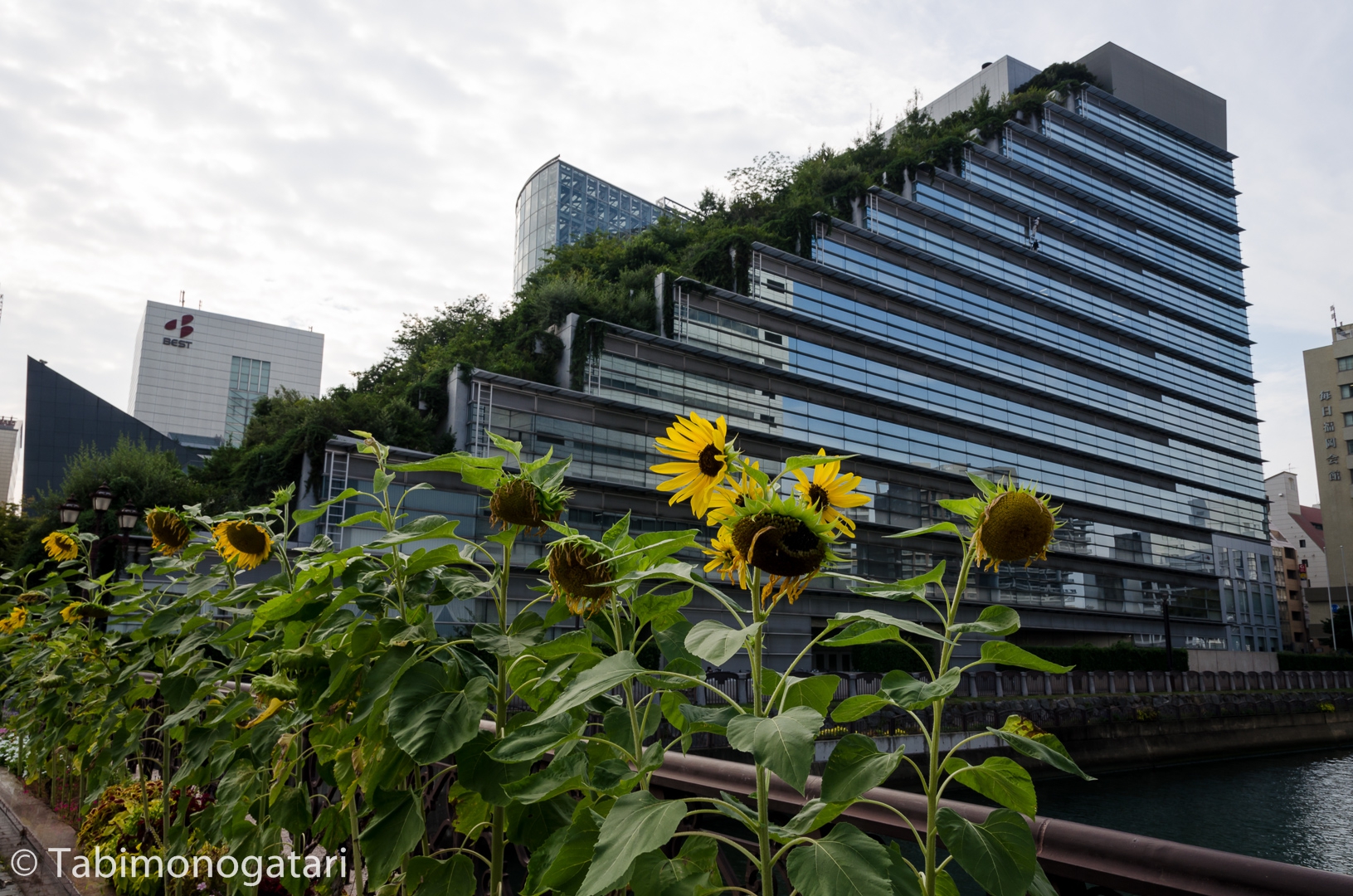 Climbing up floor by floor I was pretty exhausted when I reached the top floor, or better one below it. A closed gate welcomed me, next to it a sign that the park would be closed today. Wished to hear that earlier.
Crossing the river flowing through the Hakata district I soon reached the shopping mall Canal City. There I treated myself to some green tea ice flavoured up with almonds and an Oreo cookie. The staff was very nice and talked to me while preparing it on the spot.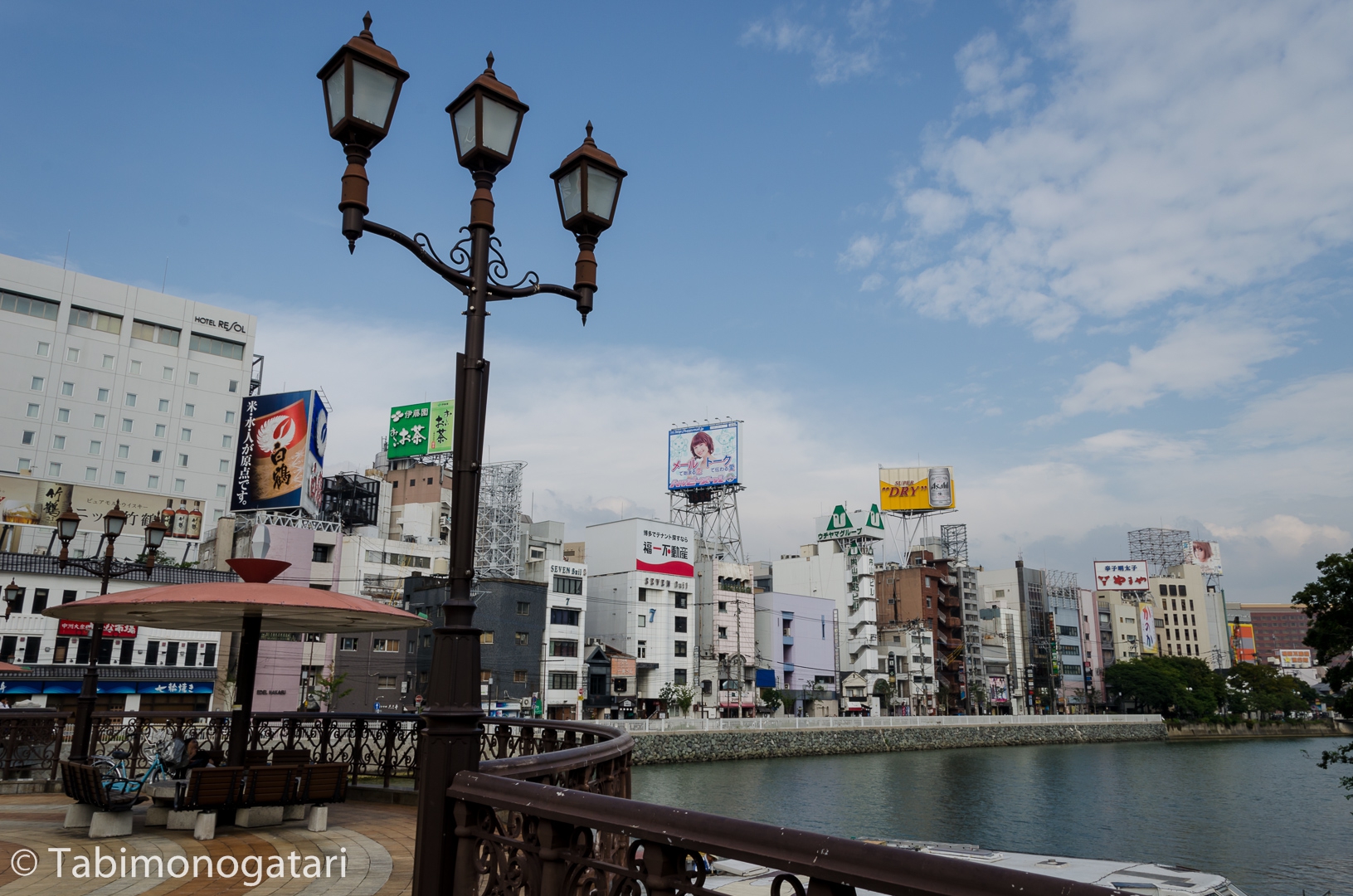 Afterwards, I paid a short visit to a local Shrine. Like its bigger sister, the Fushimi Inari shrine in Kyoto, the shrine is devoted to the fox goddess. Also a gigantic portable shrine was exhibited.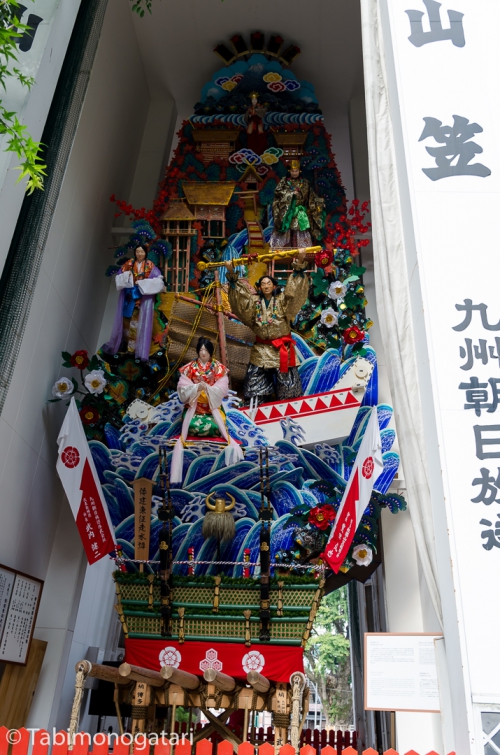 In the evening I was again in company for dinner. Coincidentally someone I tutor in Chemistry and meet in Zürich from time to time was also in Fukuoka that day.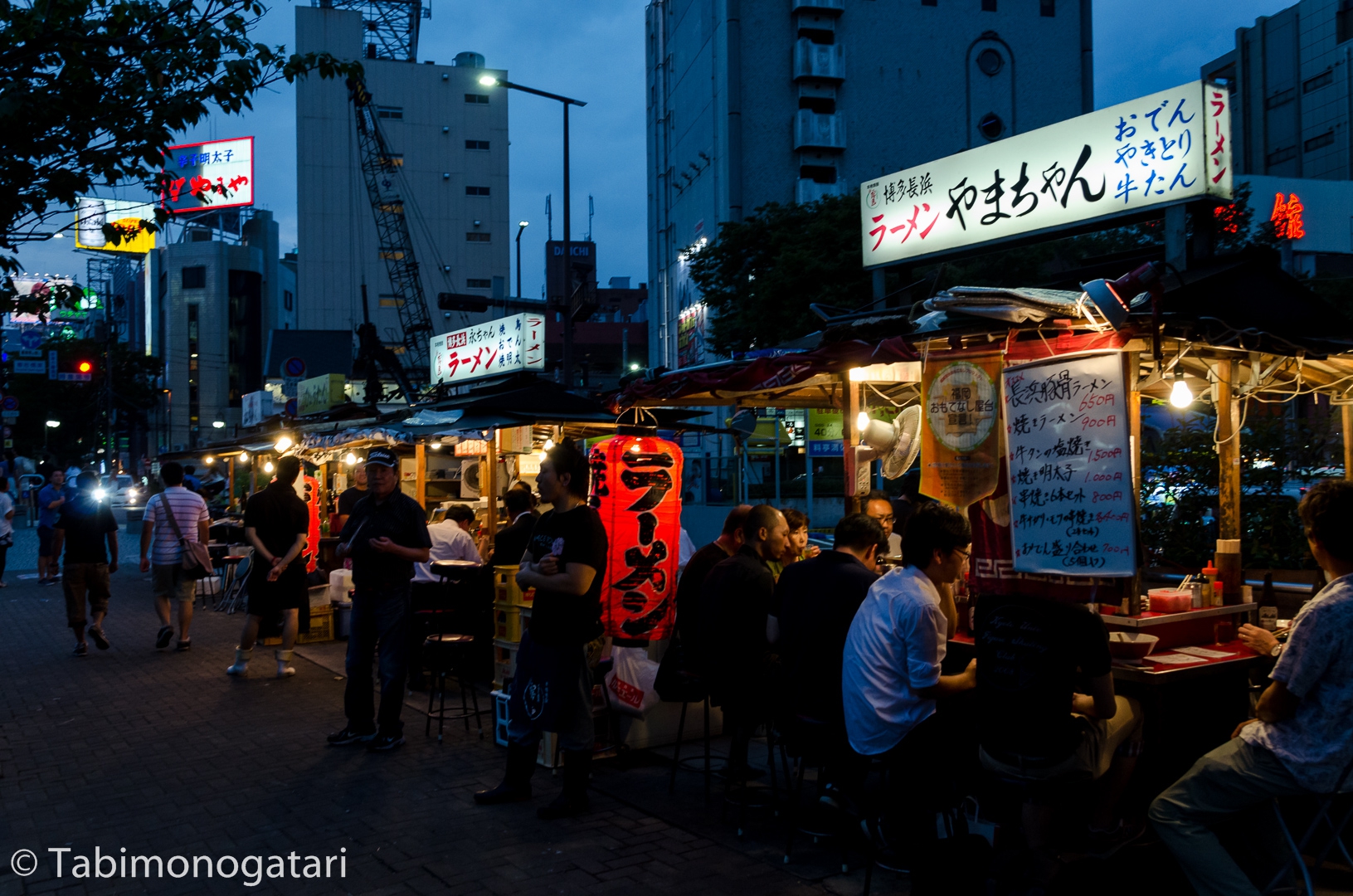 The yatai food stalls we visited are found all over the city in the evening and offer an intimate experience and a relaxed atmosphere while eating dishes like Ramen or Oden (hot pot). We tried Yakiramen (fried Ramen noodles) and Kimchi Yakimeshi (fried rice with Korean kimchi).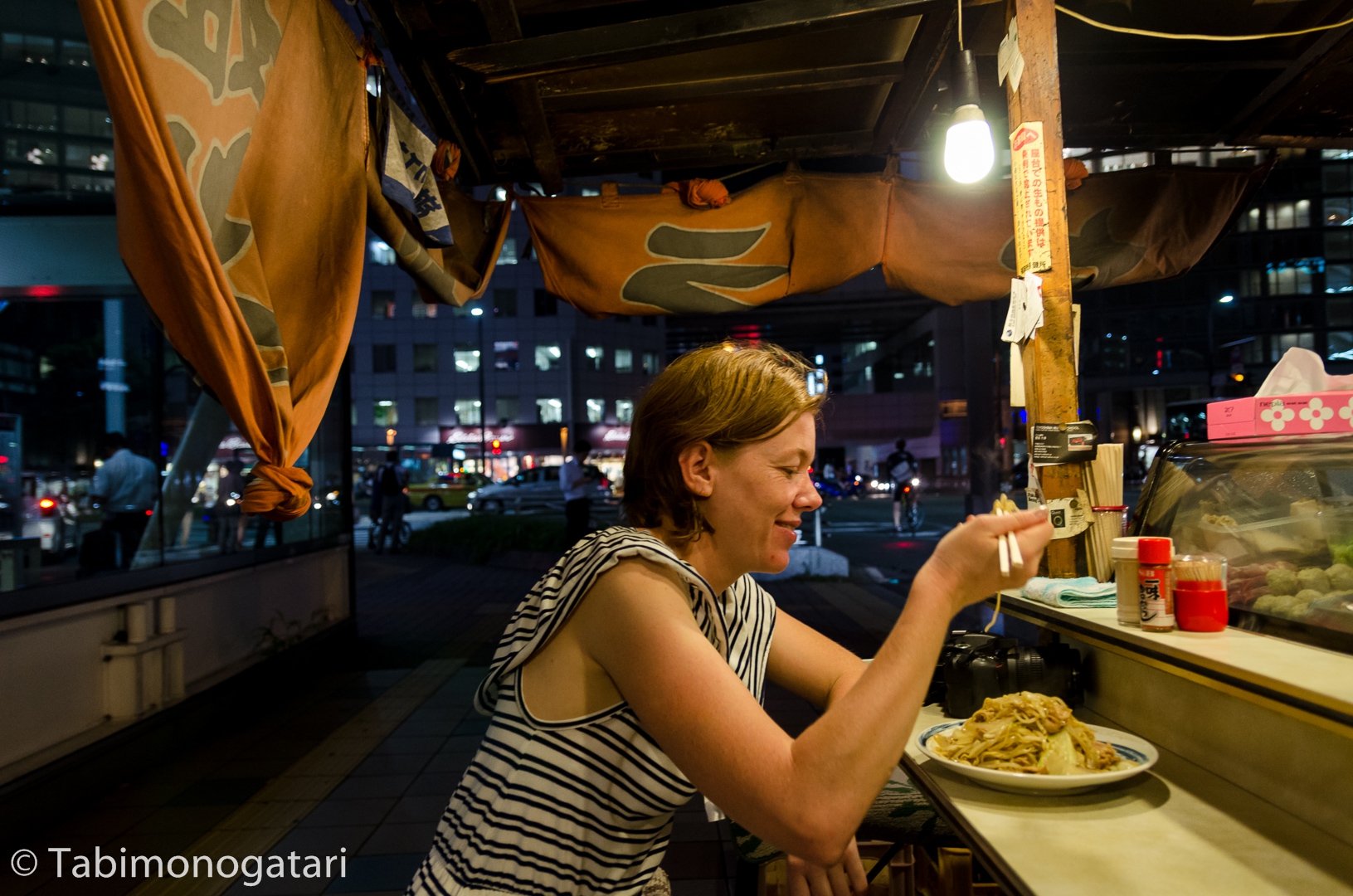 The last few days were all pretty exciting and partly also because writing down and sharing my experiences takes time. That is why I caught slightly less sleep I would have appreciated. So instead of visiting the harbour I went home early. To my misfortune it was so hot that I could not really sleep much. Fed up with it I turned on the air condition at quarter past three, ignoring the enormous noise it made.
The next morning I left early without breakfast in order to visit one more site before leaving. Outside of Fukuoka, in the town of Daizaifu is a shrine worth visiting. Misreading Daizenji for Daizaifu I first took the wrong train making a little detour.
Recently I read an article about the best Starbucks branches in the country by unique design. Daizaifu was one of them so I visited it on the way to the shrine, picking up a Matcha Frappucino and a blueberry scone (still paid less than the smallest drink size in Switzerland). On the way to the shrine I passed historic buildings with souvenier shops in them.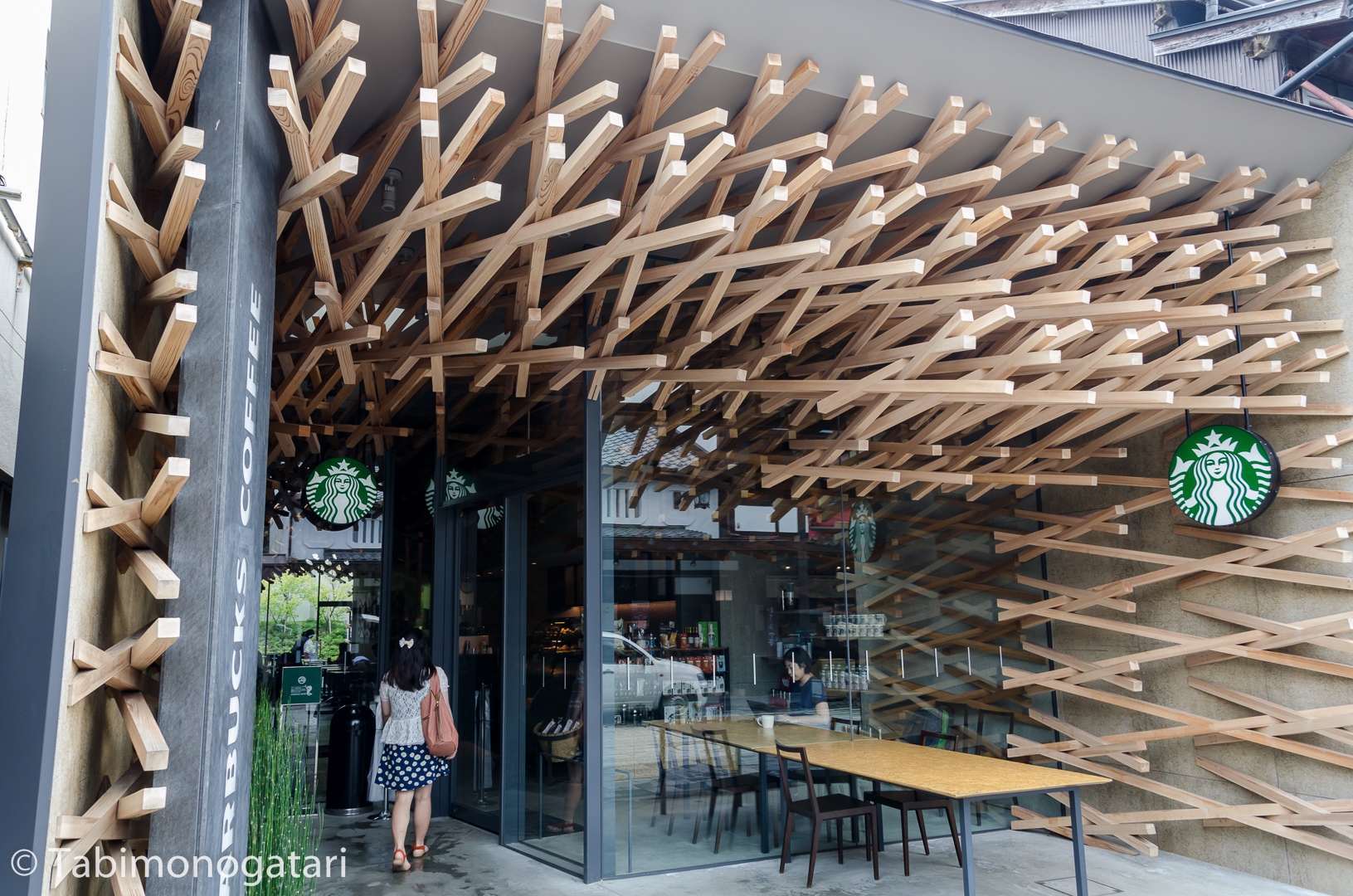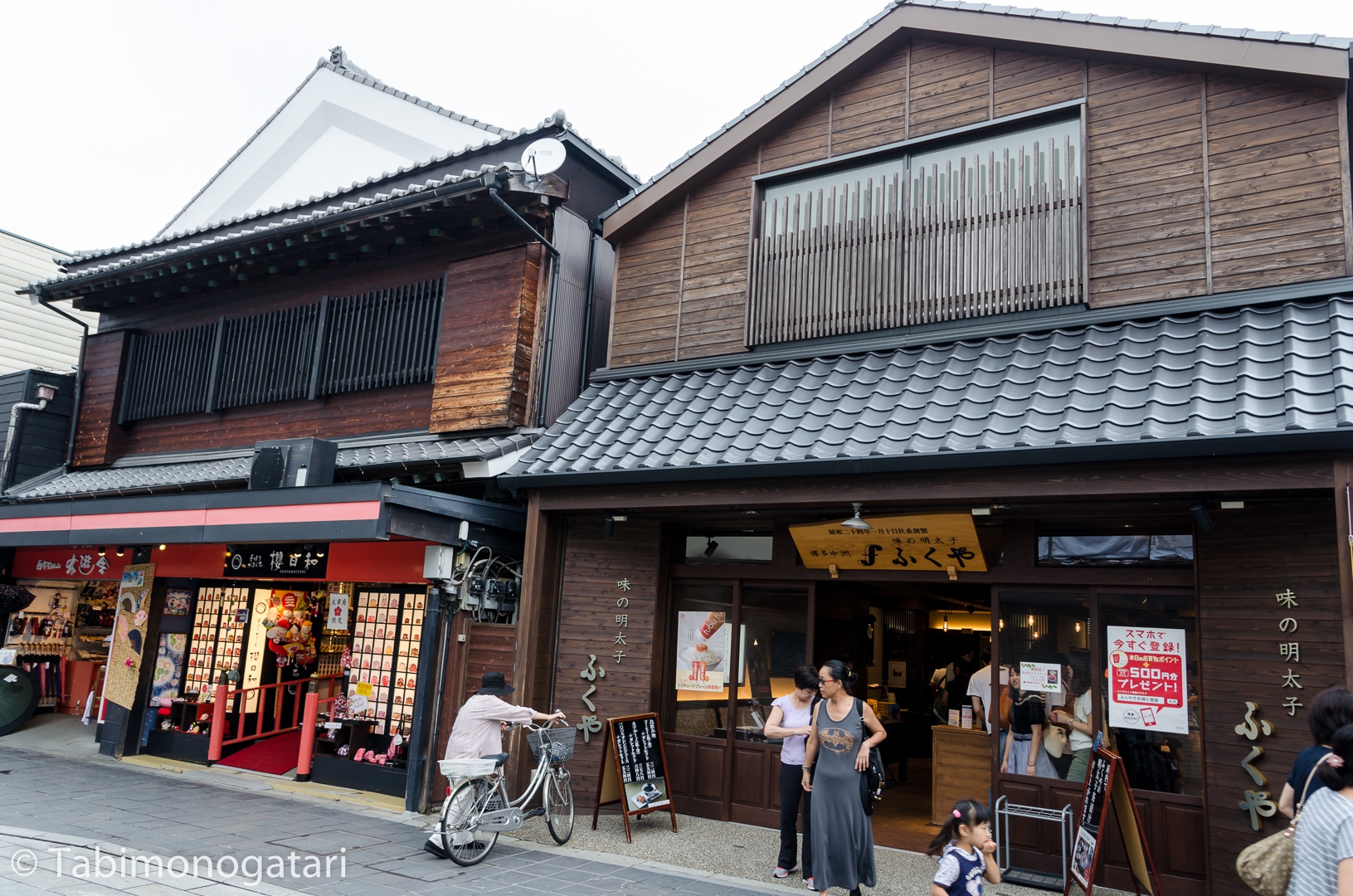 Arriving at the shrine, besides the inner buildings was a park with typical red bridges leading over a pond with Koi swimming in it. Apparently a local middle school class visited the place too.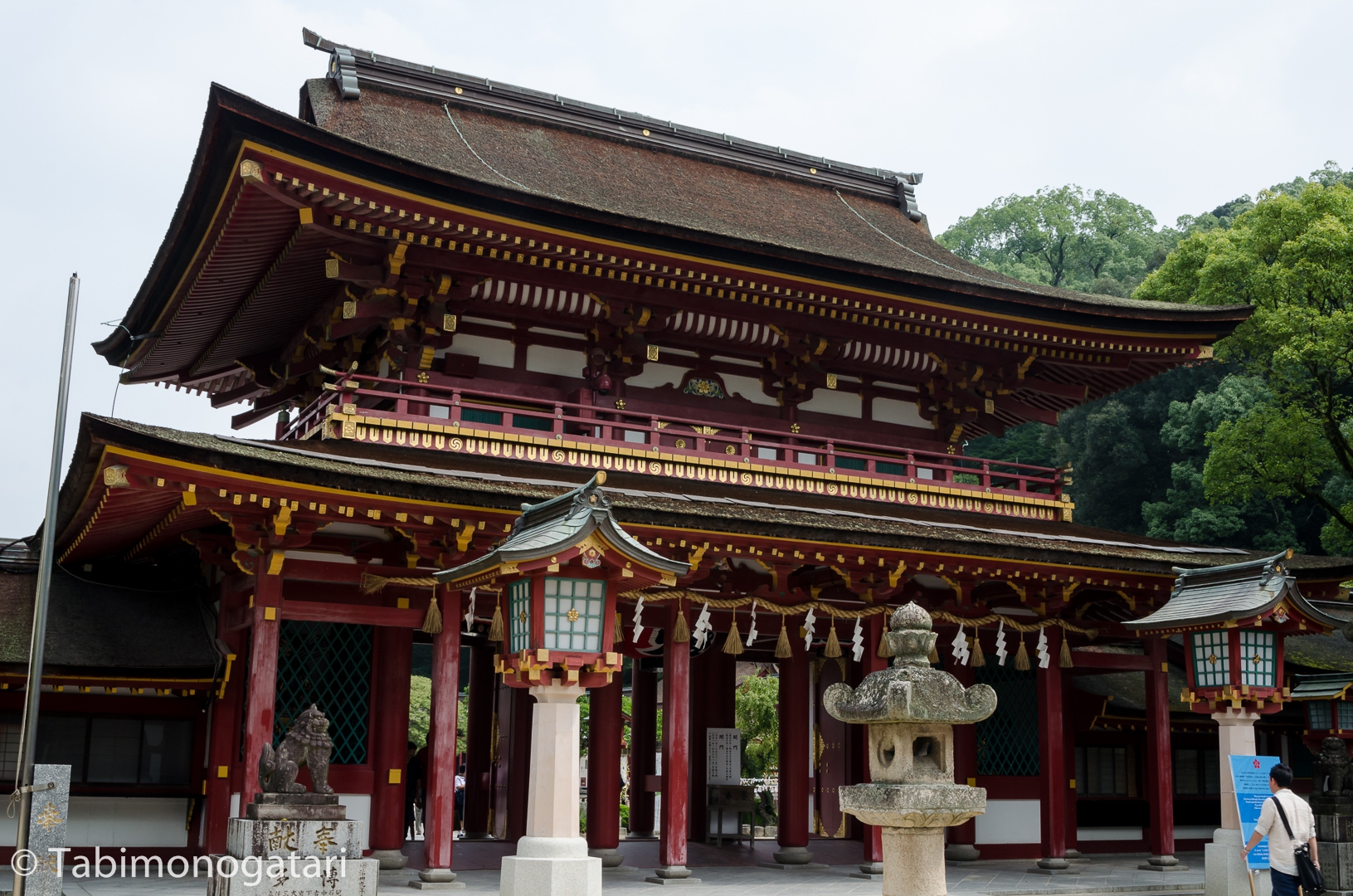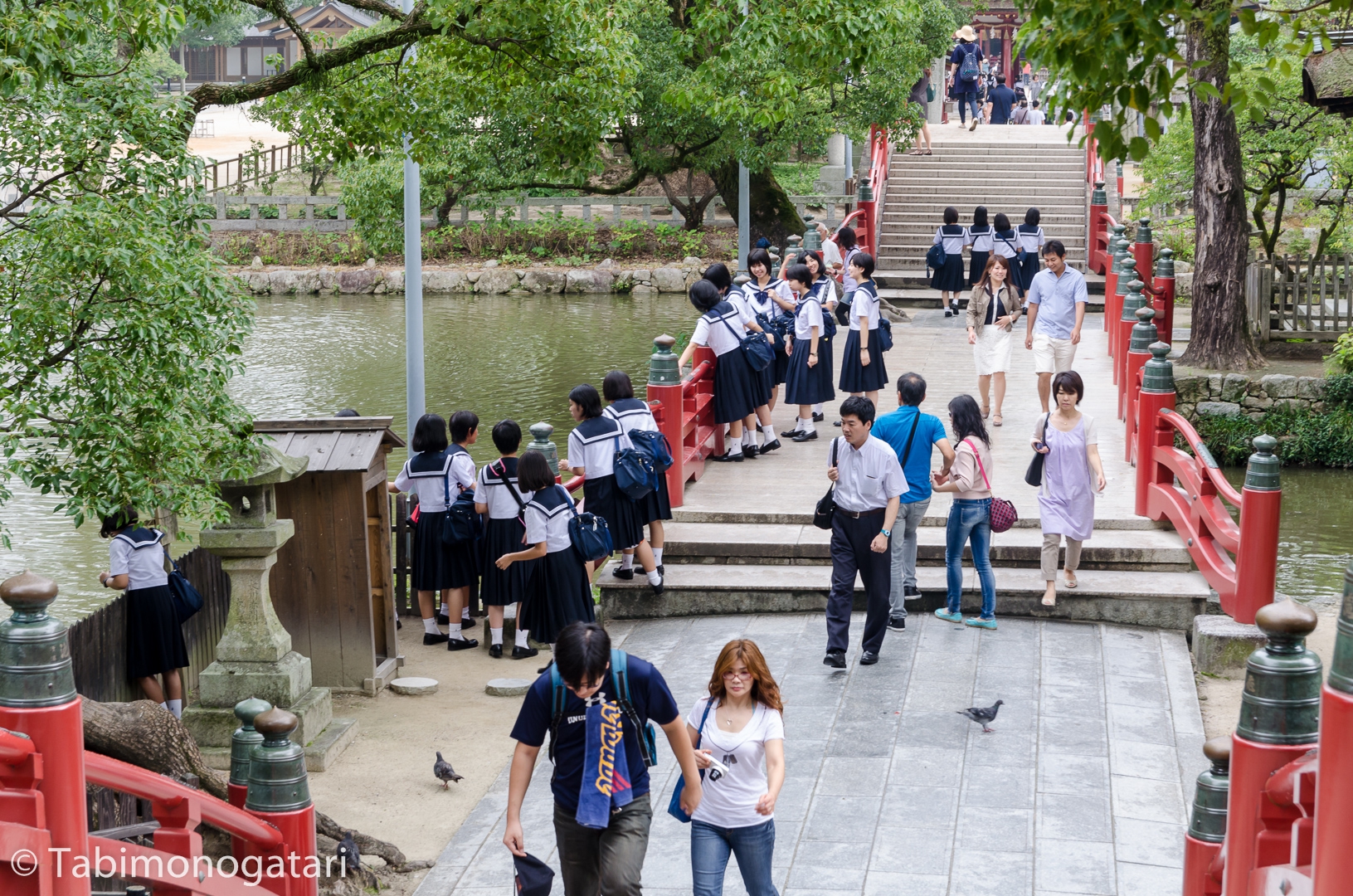 There were some complications with the trains on the way back but by hurrying I was able to pack my things and catch the train to Nagasaki on time.