Over Golden Week, a series of public holidays in early May, I had the chance to explore places outside of the Kyoto area. Sadly, the Japan Rail Pass for whole Japan that proved very helpful many times is not available to residents. However, I made ample use of the JR Kansai Wide Area Pass, which any foreign passport holder can use.
Over three days I explored various destinations across Kansai, including Kurashiki and Kinosaki Onsen.
On May 3rd , Constitution Memorial Day, I visited Kurashiki and Okayama in the West of Kansai, halfway between Osaka and Hiroshima. I believe many have skipped these places during their Japan travels (so have I until now) but it is worth to come, even if it is just for half a day.
Since Golden Week just started (today was Tuesday, the first day off) – and because of the pandemic there was no chance to travel in the last two years – the whole country was on the move now.
The JR pass allowed the use of the Shinkansen, however not East of Osaka. That meant I needed to take a conventional train from Kyoto to Shin-Osaka first, where I could transfer to the Shinkansen. I never had problems reserving a seat on the go but this time I had to wait for about half an hour until there was a train with a free seat. Still, with the fastest type, Nozomi, I made it to Okayama within an hour.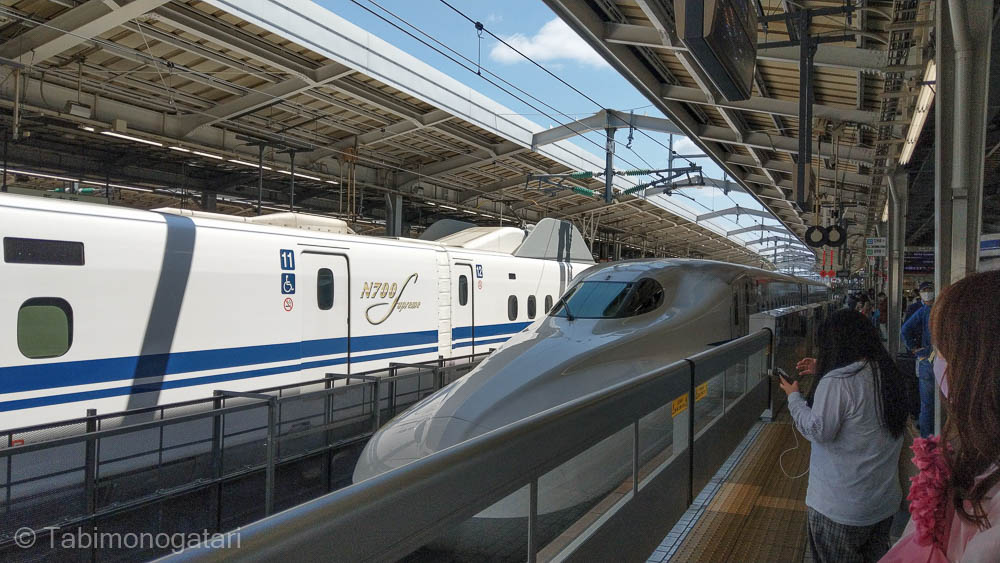 Originally I had planned to visit the Wakemachifuji Park first thing but found out the day before that the flowers already were past their peak. This cleared up a lot of time in the morning which I could use to go to Kurashiki directly, a few stops away with the local train. Using the Shinkansen to get to Shin-Kurashiki is not recommended, since it's both far away from the city center and there are not much connections anyways.
Thanks to some research beforehand and recommendations from a fellow blogger I could avoid the crowds in the first few places since they were a bit outside the frequented area. Still, it was very packed but manageable throughout most of the day.
Leaving the station from the South exit and following a small channel I arrived at Soba Trattoria Takenoya, a highly regarded place not only for noodles. The restaurant is housed in a traditional yard in which I could relax in while waiting for my turn to be served in the restaurant.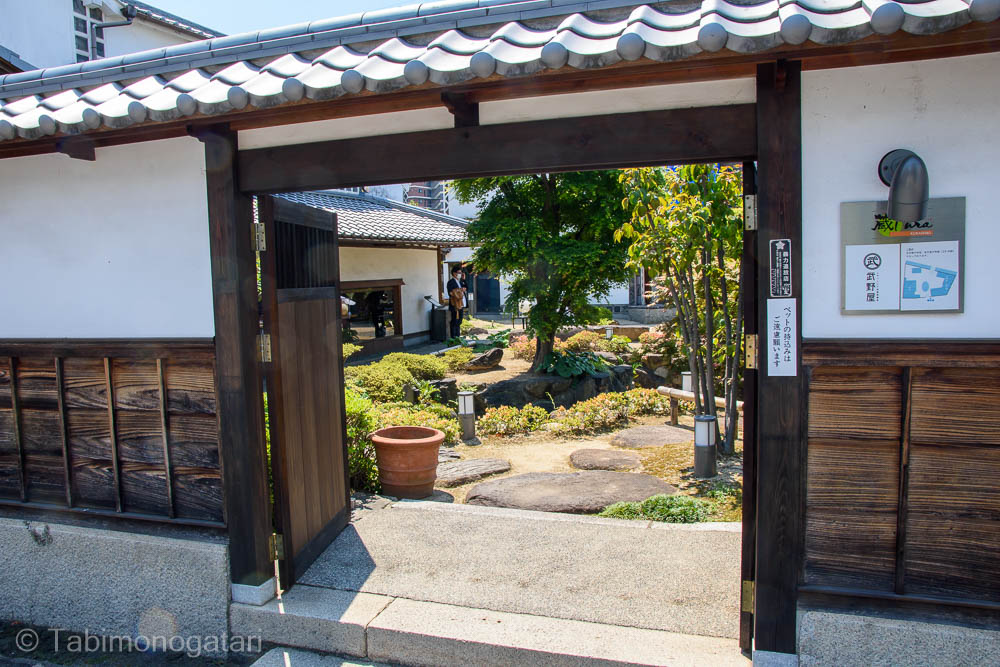 This restaurant is renowned for their handmade soba and their creative interpretations, ranging from classical washoku dishes to Italian dishes with soba noodles. While I was intrigued to try many of these dishes, there was also a course meal that was only served to 10 customers per day. I was early enough and could order it – and it was delicious throughout.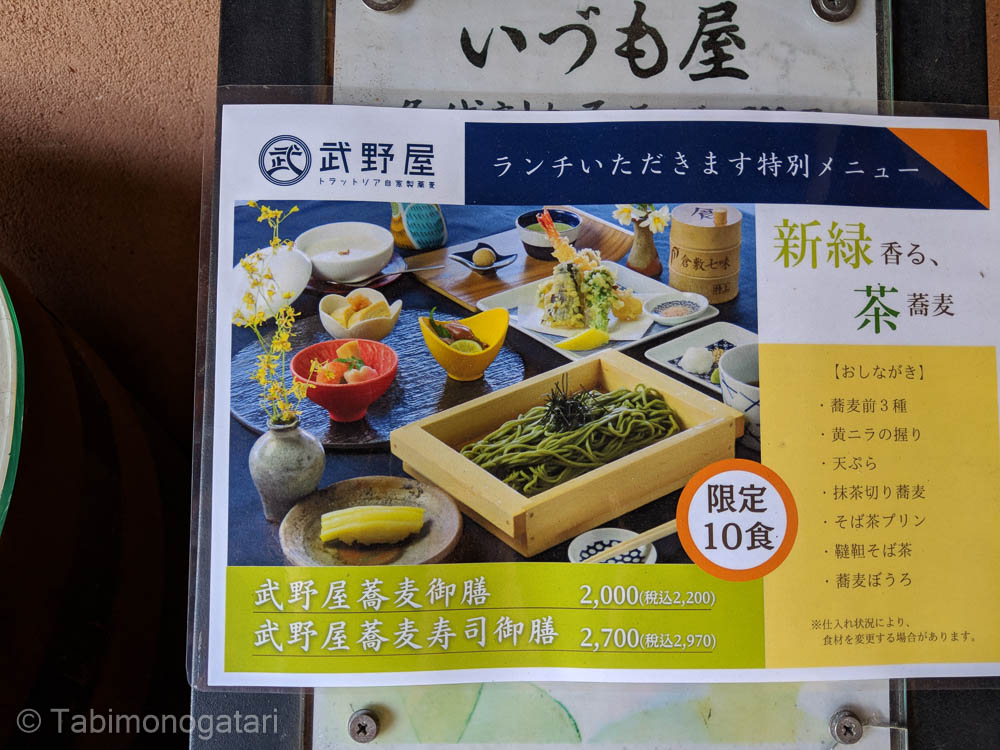 First there were appetizers, including dashimaki (rolled omelet prepared with dashi) and tiny octopuses. Next followed a course of five nigiri sushi. The red one on the left is katsuo, not tuna (but equally delicious and rarer).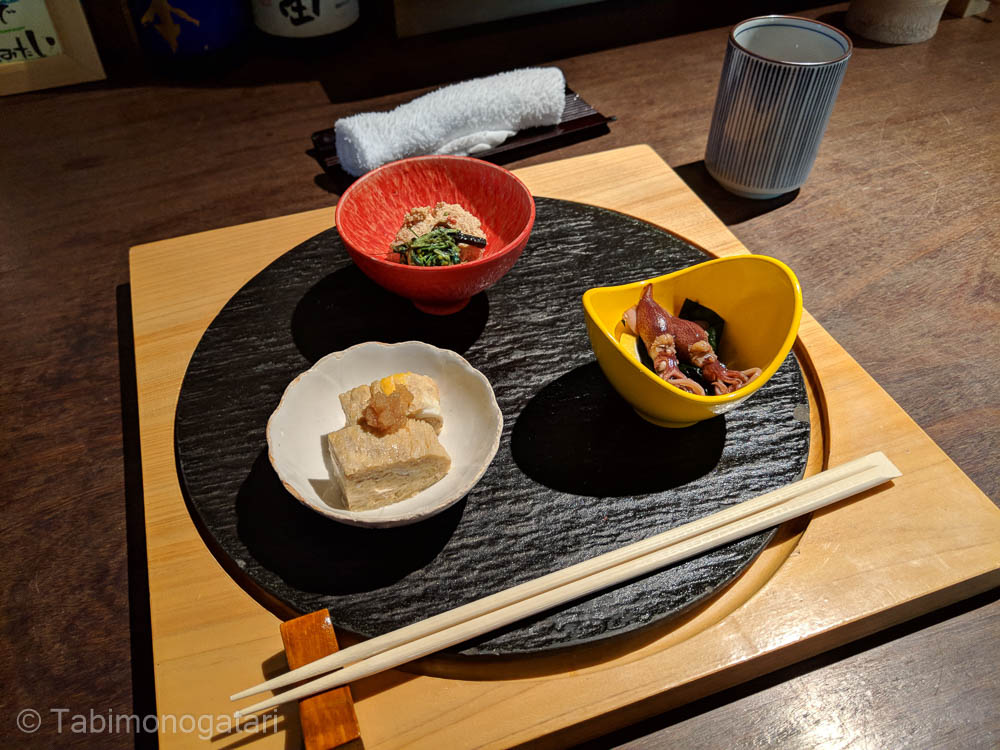 The main course consisted of green tea soba noodles with tempura on the side. As I was almost finished with it, a waitress brought hot water from boiling the noodles to dilute the dipping sauce and enjoy it as a drink. This dashiwari is also encountered for tsukemen style ramen and I am a fan of this double use of the dipping sauce. The dessert consisted of a soba pudding, a "cookie" of some sorts and a soba tea alongside with it. As you can see, all the dishes used soba in many creative ways.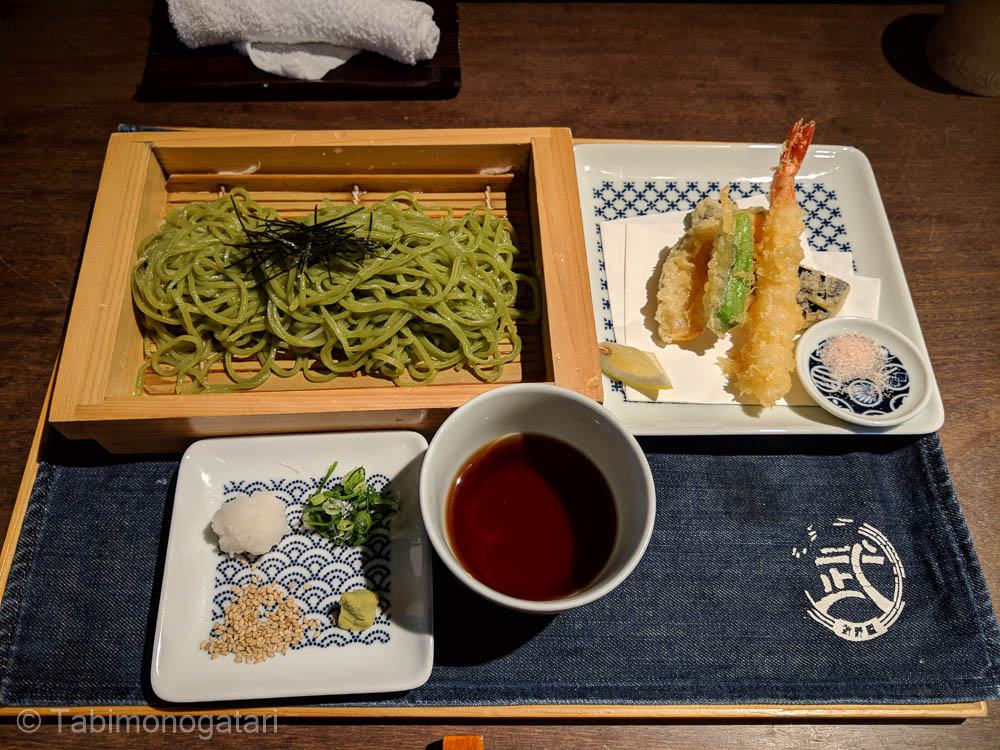 The queue only became longer as I left so I recommend to come as soon as they open to secure a spot at this lovely restaurant.
Moving on, I visited the historic Ohashi family residence, a well preserved traditional house of a merchant family in the late 18th century. In one of the rooms, local craft(wo)men were working on a large ikebana display. There was no other visitor there, which is a shame but very pleasant for me to visit in peace.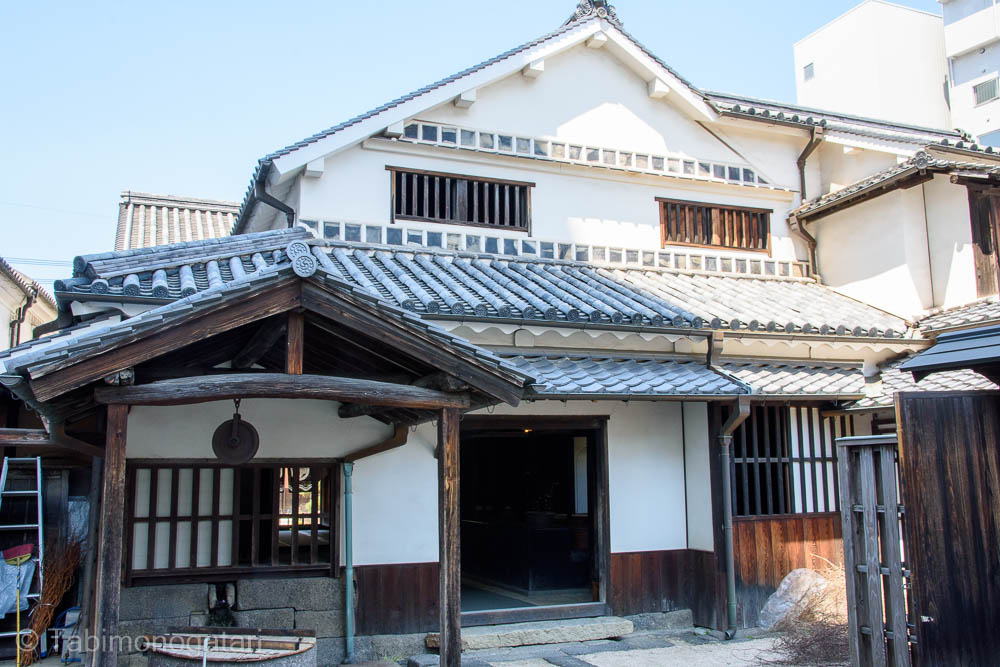 Then I entered the historic bikan district and suddenly I was within a sea of tourists. Souvenir shops and restaurants line the channel and narrow streets and there is so much to see and experience. You can also enjoy a ride on a rikusha if you are too tired to walk.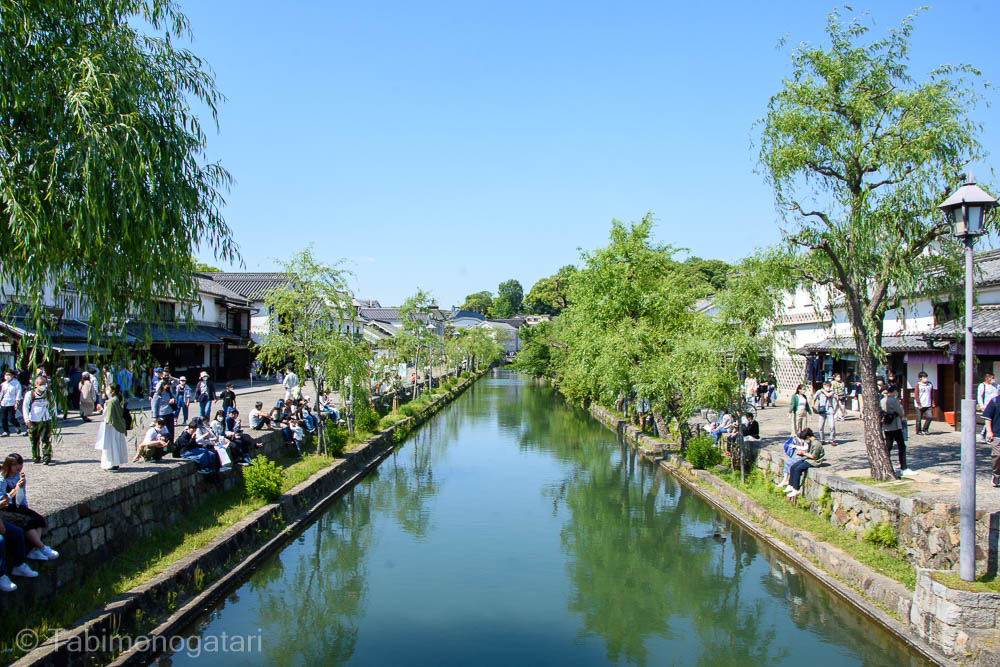 Honestly, I did not expect to spend so much time in Kurashiki but there were so many interesting shops and products being offered, I had to take a look at all of them.  
Kurashiki is proud about many of its products, with the most prominent being the denim products. You can buy jeans, other dyed clothes and many more indigo colored items, including bags and even food. Yes, there was a shop selling blue ice cream and blue nikuman. As part of the Setouchi inland sea region, local fruits such as peaches and grapes, as well as kibi dango are popular gifts. There was an interesting shop called tane selling masking tape I recommend to check out.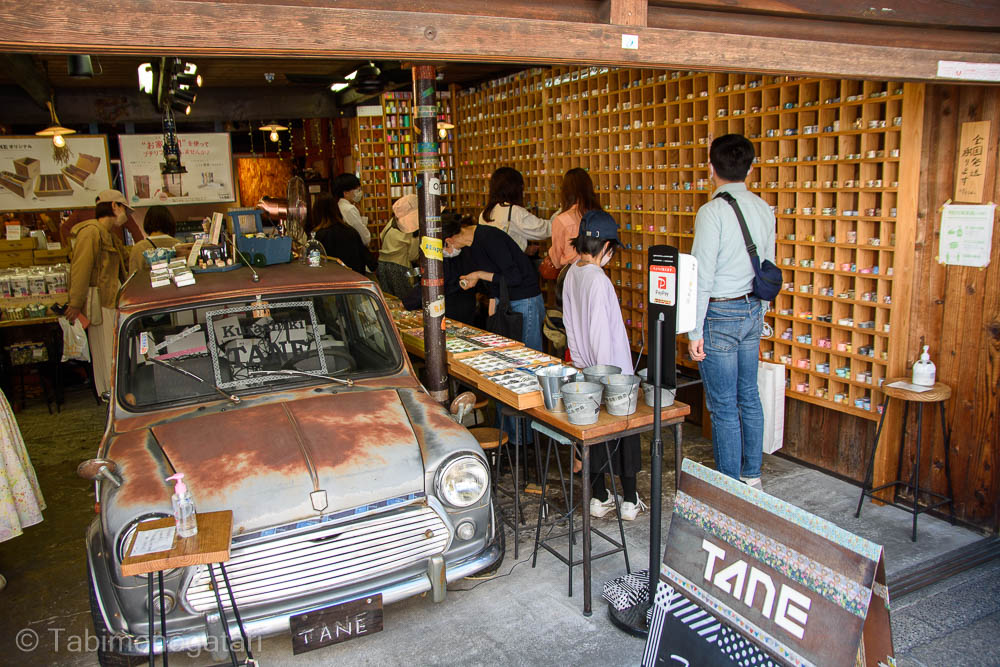 Kurashiki also claims to be the place of the Momotaro tale, translating to many appearances of the character in the city.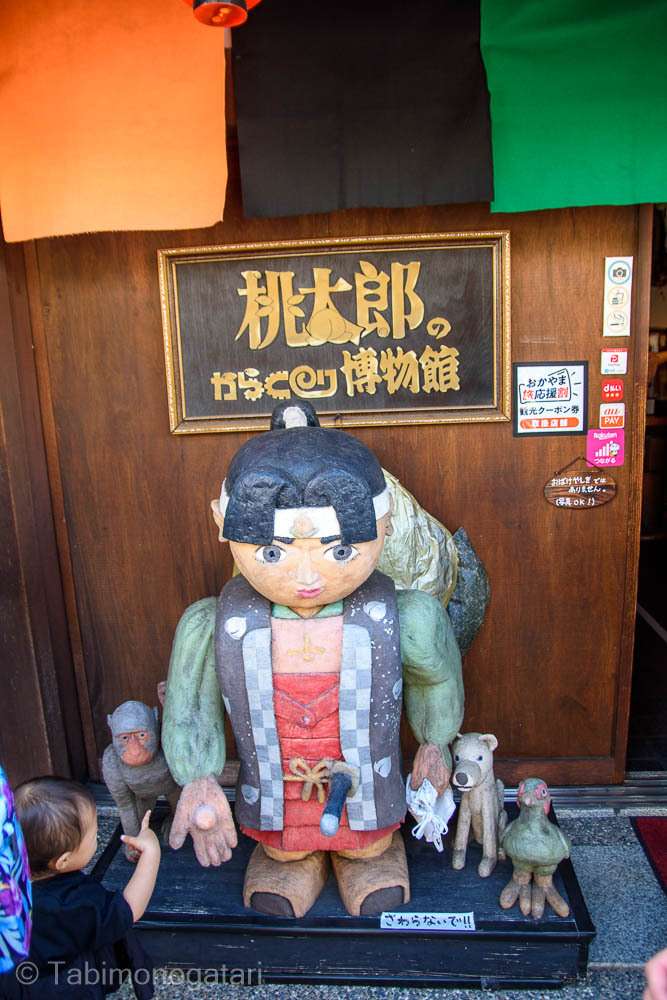 On a hilltop there is a shrine that you can enjoy if you need a break from the crowds..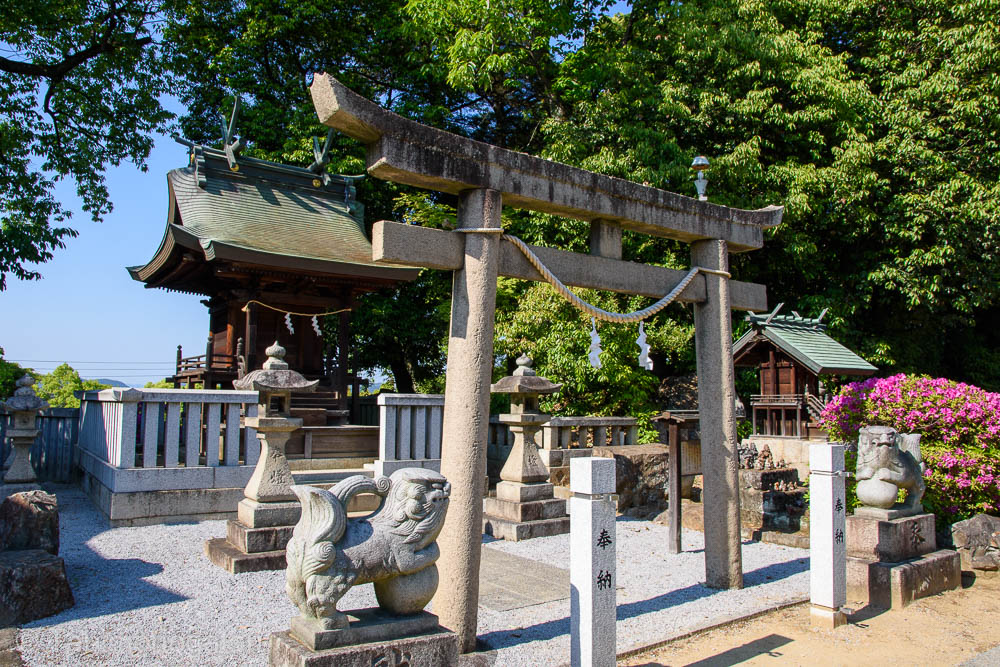 Around 4 pm I returned to Okayama to see Kourakuen. This landscape garden is among the three "most beautiful gardens", along with Kenrakuen in Kanazawa, where I have been before. The park seems like it lies on an island because of the two adjacent bridges that lead over a river.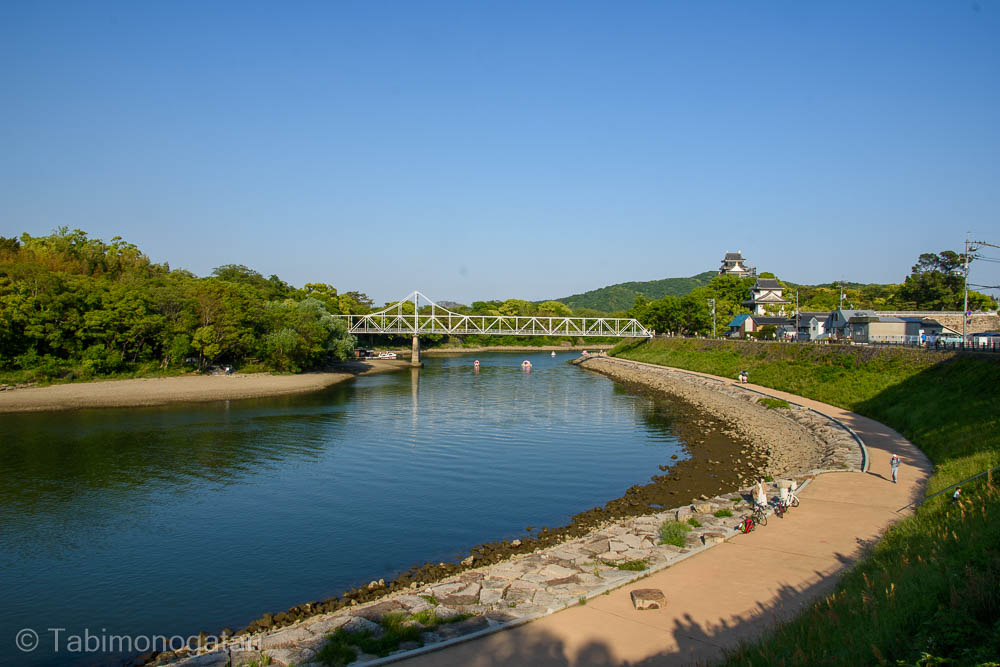 In spring the park has many flowers to offer but now almost everything is green. Tea is being cultivated in the park and there is a harvest festival in summer.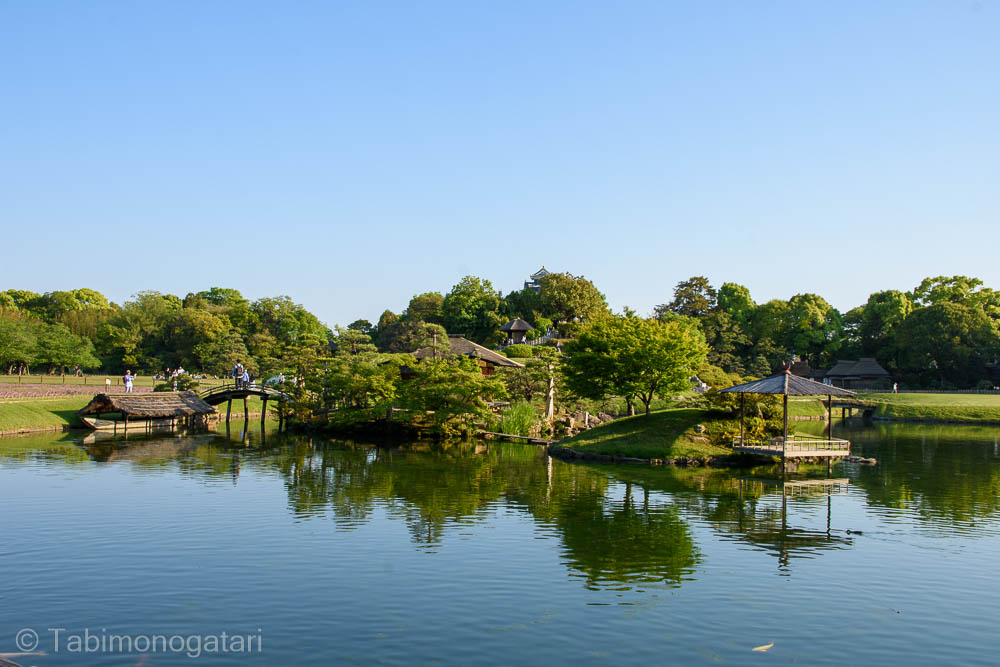 The garden features large grass areas on which sitting is allowed, contrary to other gardens I have seen so far, therefore it reminded me of western parks.
Right next to it is Okayama castle which is being renovated currently.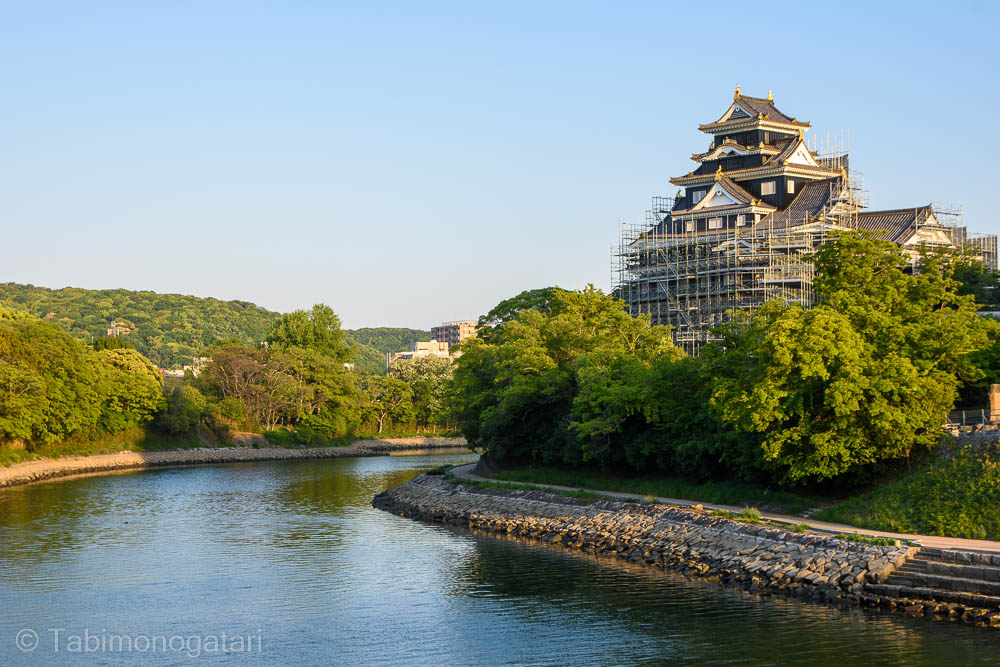 For dinner I planned to visit a miso tonkatsu restaurant called Nomura. Thanks of its reputation and possibly Golden Week, there was a fairy long queue in front of the restaurant. But since I was not in a hurry anymore I was willing to wait for the good meal. In this restaurant one needs to enter first and pay at the vending machine, passing the queue of customers who already did so, and write down one's name on a waiting list. It took over an hour since there were about 20-30 customers in front of me, but from what I have observed, choosing take away will be much faster, because the kitchen is faster than the seats freeing up.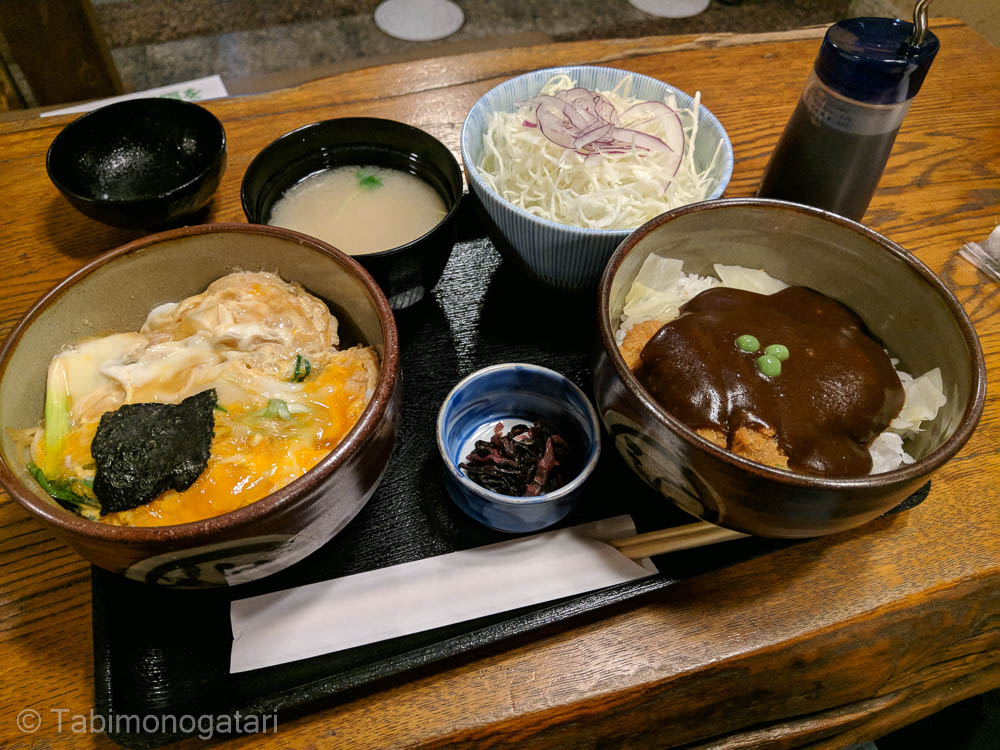 Here I chose the combi set (two small portions each) of their Misokatsu and Oyakodon with a side of cabbage salad.
I returned to Kyoto afterwards by spontaneously hopping onto the next Shinkansen. I managed to get a seat in the non-reserved section and transferred in Osaka again. Thanks to the pass I could also ride Limited Express trains without surcharge, so I hopped on the Super Hakuto. Funnily enough, this train was not electrified and had an old school charm.
As you could read Okayama and Kurashiki can be explored comfortably within a day from Kyoto and Osaka, or Hiroshima. It also makes sense to stay over in Okayama, as it's a good destination for many locations in the area. For example, Takamatsu on Shikoku is just an hour ride away, as is Onomichi.